At Gartner, our team of research and advisory experts provide essential insights and actionable guidance for all leaders across the enterprise. With the enormous pressures enterprise leaders face to stay ahead and grow profitability, Gartner works to alleviate those pressures with on-demand access to insights and tools built from proprietary data and bundled with advisory services delivered by our experts. As a company that takes pride in the continuous growth and accomplishments of our associates, we want to introduce you to one of our organization's thought leaders on our Research & Advisory Team.
What makes our R&A team so successful? Each individual, and their unique backgrounds, experience and perspective they bring along with them. 
Meet Nader Henein, VP Analyst, IT Role-based Products, Security Leaders, who joined Gartner back in 2018. Below, he's sharing how his upbringing has shaped him into the person he is today and how his experiences have helped him be more successful in his career.
What was your early life/childhood like?
I am the son of two Egyptian doctors and was born in England while my dad was finishing up surgical studies. Watching my parents work hard and continue to further their education and careers helped set the stage for my career.  Their drive and determination to do meaningful work was definitely something that was instilled in me from early on.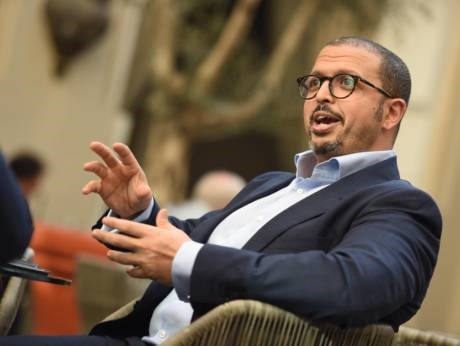 Could you describe what your career path has looked like over the years?
I have been in this industry for over 20 years. After earning my degree in Computer Science from UC Santa Barbara, I launched myself into serial entrepreneurship. This began with 6 years at Bayt.com, which quickly became and remains the largest recruitment portal in the region. Followed by three years at EMS (Emitac Mobile Solutions), which saw a small team launch BlackBerry across 35 countries in the Middle East and Africa.  Soon thereafter, I was recruited by BlackBerry and went on to lead the advanced cyber resilience consulting practice. Fast forward to 2018, a colleague of mine recommended an opening at Gartner and I decided to take it. As a virtual-first organization, Gartner gave me and my partner the opportunity to relocate to Scotland, where we enjoy a rural lifestyle. I have now been a VP Analyst here at Gartner for four years. 
What do you like most about the culture at Gartner?
During my years at Gartner, I have grown a strong interest in one of Gartner's Employee Resource Groups (ERGs), Mosaic at Gartner. This ERG is dedicated to recruiting, engaging, developing, and enhancing the visibility for associates who identify as underrepresented races or ethnicities. I am now a part of the advisory board for Mosaic at Gartner. In this role, I coach ambassadors from various business units to develop goals and execution strategies. I am someone who is  committed to supporting an environment where there is diversity of thought and experience. 
What is the best piece of advice you can offer to those working in diversity focused ERGs?
The best piece of advice I can give anyone working in diversity focused ERGs is to ensure that what they are doing advances their cause. That it's not simply window dressing, we often get bogged down with a hot-button topic and end up spinning our wheels endlessly and wasting energy, it's really important we are able to identify these issues and steer clear, stay focused" 
Looking to make a big impact with your work? Learn more about our Research and Advisory team here.