Written By: Jan Dannecker, Gartner Account Executive, MSE
A Guide for Prospective Interns & New Hires
What does the interview process look like at Gartner? Our interview process for both internships and full-time Account Manager SME roles is multitiered and involves numerous steps, each different from the other.
Pro-Tip: If you are interviewing for a role with a one-tiered process, question the quality of that role.
Phase 1
Generally speaking, candidates will find their way to a first interview, or a "screening interview," with a Campus Recruiter (to get to this stage, seek a referral from a fellow student or visit a career fair— you'll find someone who knows Gartner.) Most of the time, this is conducted over the phone but could take place right at Gartner's booth on-site at a career fair (it did for me). During this portion, the recruiter will be evaluating whether or not the candidate is a good fit for a sales role in general. Expect questions such as: What motivates you? What's a challenge you've had to overcome and how did you do it? Why sales? Or, my personal favorite- What's the biggest mistake you've made that you don't regret (good one, right)?
Advice for Phase 1: Be honest and transparent with your recruiter. Gartner hires based on traits, like many sales roles, so just be yourself, and the candidate/company fit will come naturally.
Phase 2
Many candidates will quickly realize that no interview process is exactly the same from one candidate to another, regardless of the employer. So, again, generally speaking, the second phase of the Gartner interview will be another phone screening, with another Campus Recruiter (or the same one). Expect more detailed questions around sales experience, overcoming obstacles, exceeding goals and metrics, etc.
Advice for Phase 2: See advice for Phase 1.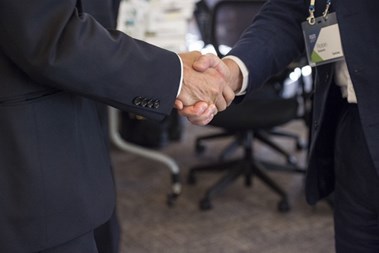 Phase 3
This portion of the interview process can go a few different ways, depending on the role for which a candidate is applying. Interns will generally be advanced to a video conference interview and role-play with a Sales Manager and Sales VP. It will begin with a bit of "getting to know you" (again, be yourself), and then a situational role play, where the interviewers will provide the candidate a scenario. The candidate acts as the seller, the interviewer the buyer. Role-play scenarios will likely vary from candidate to candidate. Many potential hires will have never been involved in a sales role-play before, so here are some tips:
Actively Listen- One of the most important traits that the interviewer will be looking for is how well the candidate is able to actively listen during the role play. A successful candidate will be immersed in the role-play dialogue and should strive to pick up on the buyer's context clues, which often are key indicators of larger needs. The best way to express active listening is by repeating back to the buyer what he/she has said more than once throughout the call, as a way to confirm what's been discussed.-This will go a long way with your interviewer (or buyer).
Ask Questions and Be Curious– It's better to ask thoughtful questions until the time is up during the role-play than to pitch the whole time. This shows the interviewer that you are genuinely interested in the conversation and that you care about his/her business. Start with open-ended questions, and probe until you've uncovered your buyer's primary need or pain point, then transition into how whatever you're tasked with selling will solve this for him/her.
Don't Sell, Solve!– A successful role play will not be defined by how strong the candidate's pitch is (despite what we see in movies), but more on his/her ability to uncover the buyer's needs and to align his/her solution appropriately.
Take a Deep Breath- Don't be afraid to pause after given the role-play scenario. Many candidates will make the mistake of "jumping right in," despite the interviewer's offer to ponder the situation for a moment. Take your time, breathe in, breathe out.
Good luck!
---
Are you interested in joining the Gartner team? Search for an opportunity here.