Gartner India has a long history of corporate social responsibility (CSR). These efforts include supporting the communities where we live and work through volunteerism, philanthropy and caring for the environment. We aim to make a positive impact on society by partnering with organizations that focus on a variety of social issues, including advancing education, eradicating hunger, poverty and malnutrition, promoting health and sanitation, protecting the environment, and the promotion of women empowerment.
We are proud to share that we have released our inaugural Gartner India Corporate Social Responsibility report which details our ongoing efforts in the region. This report acts as a supplement to our annual Corporate Responsibility Report which highlights Gartner's efforts globally. Read on to learn more about our CSR efforts in India and discover how our associates have made an impact in their local communities. 
During Financial Year 2022-23, Gartner financially supported 10 nonprofit organizations in India through corporate grants as part of its compliance with the Companies Act, 2013, and the Companies (Corporate Social Responsibility Policy) Rules. Additionally, the contributions made by our associates to multiple charities were matched by Gartner's Charity Match program. In addition, our associates volunteered over 3,200 hours of their time to support different causes. Through their efforts, they accomplished some amazing feats, including planting 600 trees, serving 67,000 meals to children in need and empowering over 420 children and 200 women with educational support and development. 
In addition, Gartner India recently received the CSR Award for Service Excellence in Health and Sanitation during the PURE Social Impact Awards. The award is a recognition of our efforts towards social responsibility and our commitment to making a positive impact in the communities we serve and a testament to the hard work and dedication of our associates.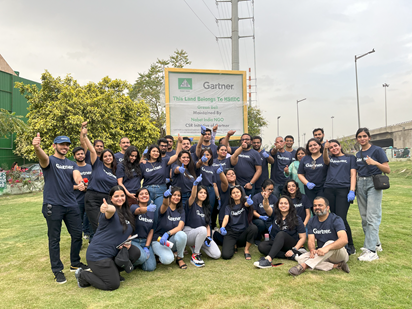 In addition to our community impact efforts, we are proud that our main office in this region has earned several sustainability certifications.  In April of 2022 we officially opened our Gurgaon, India office to local associates. Gartner's Gurgaon office has earned 4 well-known sustainability certifications: The RESET Air certification, the LEED platinum pre-certification from the U.S Green Building Council, the WELL Health-Safety Rating certification, and the WELL platinum precertification. Learn more about key features of the building's sustainability initiatives here.
"Putting people's health at the center of design, a WELL-certified office promises to optimize occupant health, improve health-related habits, improve quality of life and increase productivity. Our Gurgaon office has the best practices to help to reduce energy, water, waste, pollution and CO2 at the community scale, and in turn,, improve air and water quality." - Sasmita Sahu, Director, Real Estate
Hear more from our associates about the impact of our CSR initiatives in India: 
"We focus on a variety of CSR activities and are committed to giving back to the community by providing positive social value to make a difference." - Ram Sharma, Director of Gartner India CSR Committee and VP, International Finance
"We are proud to unveil our inaugural India CSR report for FY 2022-2023, a testament to our unwavering commitment to creating positive social and environmental impact in the communities we serve. With the support of our nonprofit partners,  we remain dedicated to contributing towards a more sustainable and equitable India. A special thank you to our associates whose volunteering efforts and generous donation contributions have been instrumental in driving tangible change within these communities". - Astha Pando Bhushan, CSR Senior Specialist