"Like everything else, you need to enjoy your work. That way, you can always stay motivated," says Krishan Pratap Singh, Associate Director, Recruiting. Below, he's sharing his advice for candidates who are starting a new job.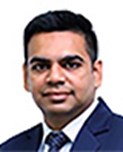 I joined Gartner three years ago to set up a new university recruiting function in India. The past few years have been a great learning experience for me. The organization has seen fantastic growth in the region, and it is a great place to start your career. At Gartner, you get an opportunity to work with a variety of teams across the globe. It is an MNC in its real sense.  This global collaboration allows you to gain new perspectives and exposes you to new ways of working – this helps set you up for long-term success. You always have an opportunity to grow while you are at Gartner. 
While new people and new environments can be a bit overwhelming, try to look at the brighter side – new possibilities! Here are four things you can do to set yourself on the path to success from day one.
Network: Make an effort to make new connections and allow others to get to know you. Be attentive and observe how everyone works, in and outside your team. Doing these things will help you gain a lot of valuable insights into the organization and work culture. Having a good network will make you more productive. 
Seek help: In the beginning, make sure you think before you execute. If you are unsure about anything, try reaching out to a colleague. Start developing trusted relationships at work, and you'll become more comfortable asking for help, ultimately making you more capable and confident as you master best practices. 
Define Success: During the first few weeks, take some time to set up mutual expectations with your manager. Try to understand how you can best work together, how to get the resources you need to do your job well, and how your job performance will be evaluated. Clearly defining your objectives and how it fits into the bigger picture will help you better prioritize and work more effectively. 
Continuous Feedback: Once you have established a healthy working relationship with your colleagues, you can seek feedback from them regularly-especially your key stakeholders. It is imperative that you continuously connect with the people around you to check in on what's working, what might not be, and most importantly what you can do differently to achieve the desired outcomes. These efforts will ensure you're continuously improving and making the most significant impact. 
Remember, embracing change, and seeing opportunities where others may see challenges will help you stand out and set you up for life-long success.
---
Are you looking for a job where you'll do challenging, groundbreaking work? At Gartner, every associate has a hand in our success. Learn more about how you can make an impact with your work here.