Home to more than 750 associates Gartner's Fort Myers, FL office is its second largest office in the U.S. and its largest sales office globally. The Fort Myers community is quickly growing and it's quite obvious to see why.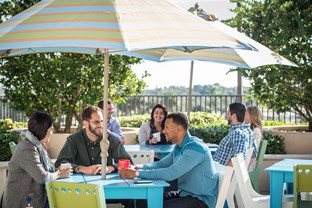 When asked about living in Fort Myers, our associates like to say, "We live where you vacation." In addition to the noteworthy aspects of Southwest Florida living above, there's still much more to explore, like the famed Fort Myer's Artfest every February, Seminole Casino in nearby Immokalee, and other great musical and cultural events held throughout the year. We hope you come to love it as much as we do! Here are the top 8 reasons you should move to sunny Fort Myers!
1. Did someone say beaches? For starters, two of the top 3 beaches in Florida, according to U.S. News & World Report: Travel, are within an hour's drive of Fort Myers. These beaches, Sanibel Island and Naples, are big favorites among our Fort Myers Gartner associates. In addition, Fort Myers Beach, Lover's Key, and Bonita Beach are all located right around the Fort Myers area. If you feel like taking a day or weekend trip, Siesta Key, Miami, and Tampa (among many others) are all within a couple hours of Fort Myers. You'd be hard-pressed to find anything better than that!
2. Your wallet will start to feel a little heavier. Not only is the cost of living in Fort Myers 5% below the national average, according to Sterling's Best Places, Florida has no state income tax — meaning you'll keep more of your hard-earned pennies. As an added bonus, the median price of homes sold in Fort Myers in the past year was $167,250, just shy of $100,000 less than the national median price.
3. Sports fan? We have plenty for you! The Boston Red Sox and Minnesota Twins have their spring training facilities based in Fort Myers, making for lots of great games to check out in early spring. The Florida Everblades, a minor league hockey team, is located just a short drive away in Estero. Last but not least, Florida Gulf Coast University is located just a few minutes away, making for some great college basketball games to check out.
4. An up-and-coming city. Since 2000, the Fort Myers population has grown at twice the rate of the national average. Fort Myers is currently in the midst of a complete revamp of its downtown area, which promises to continue adding to the list of great restaurants, bars, and shopping!
5. Scared you might miss out on winter sports? Don't be! As mentioned previously, the Florida Everblades minor league hockey team is a short drive away in Estero. Fans of skiing and snowboarding should check out the SWFL Skiing Snowboarding Club on Meetup.com. They organize several trips throughout the winter to some of the top ski and snowboard destinations in the country, so you'll still have an excuse to break out your winter gear!
6. Shop till you drop. In addition to the Edison Mall located right in the heart of downtown Fort Myers, favorite shopping spots for our associates include the Miromar Outlets and Coconut Point — both about a 20-minute drive away in Estero. Feeling a little glamorous? Head down to Naples to check out Mercato for its shopping and high end restaurants.
7. The great outdoors beyond the beaches. While the beaches are in a league of their own, there's still a lot to be said for some of the other outdoor activities in the Fort Myers area. If you want to be more active on the water, there are fishing excursions, kayak rentals, jet boat tours, and anything else you could possibly think of year-round. Further inland, Koreshan State Park has numerous hiking the trails and campsites. And don't forget about the 50+ golf courses — many of which are home to PGA tournaments!
8. Growing professional community. Fort Myers is quickly attracting young professionals, with a growing number of corporations setting up their headquarters in the area. To support this influx, the Fort Myers Chamber of Commerce holds networking opportunities for young professionals. Check out their calendar of events for the "Women in Business" and "Business After Five" networking events.
We are hiring in Fort Myers! Are you a recent grad? Check out our sales or client service account professional roles!
Not a recent grad? Check out a full list of our job openings here.