Are you interested in joining the Gartner sales teams in our Dallas office? Learn more about growth opportunities from Beatriz Fontanella, Associate Director of Human Resources, who calls Dallas home.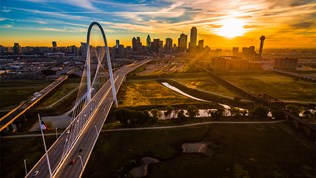 In September 2017, Gartner announced a significant investment in our business — the decision to open two brand-new Centers of Excellence: one in Dallas and another in Barcelona. The goal was to have a shared facility that provides leadership, best practices and support in a focus area. Although these offices will be home to many business units, the Dallas COE is a hub for Sales GTS MSE and GBS, HR, IT and Events.
The Dallas area was chosen after evaluating other "greenfield" locations and was selected for strong results in talent availability/pipeline, connectivity, quality of life and cost profiles. Currently there are 175 associates working in the office, but that number is growing daily. The new building is now under construction, so don't be surprised if you hear some noises on calls (nothing serious, just some demolition happening on the floors below.). Between the construction and all the new faces, things are far from boring at the Irving office. We anticipate to move to our permanent "Gartnerized" office in August or September 2018.
The Gartner office is located inside the 12,000-acre urban center of Las Colinas in Irving, Texas. Las Colinas has a blend of charming residential pockets alongside rising towers, and the brand-new Toyota Music Factory, a sprawling complex located just down the street from the Gartner offices, offers plenty of entertainment options. Irving is the 13th-largest city in Texas and sits just west of downtown Dallas and just east of Fort Worth. Its central location makes it perfect for anyone looking to experience the best the Dallas/Fort Worth Metroplex has to offer.
Its proximity to two major airport hubs, immediately adjacent to DFW Airport and only 10 minutes from Love Field, makes it easily accessible from both coasts. The recent completion of the Dallas Area Rapid Transit Orange Line now provides a direct connection by rail to Las Colinas from downtown Dallas, DFW Airport and other points throughout the region. Las Colinas is a small paradise inside of a huge metropolis in the DFW area. It has 56 beautiful, small lakes throughout the development, jogging trails, public and private parks, museums, colleges, hospitals, country clubs, and cultural and recreational institutions. Northlake College, the University of Dallas and the Las Colinas Medical Center have all established campuses there too, and several museums, including the Irving Arts Center, are located nearby.
We often say Dallas is the place to be. We are hiring, and we are growing.
---
Are you interested in joining the Gartner team in Dallas? Search for available opportunities here.