At Gartner, we recognize that we are made better and stronger when we bring together individuals with a diverse set of experiences. When Claudia Esquivel, Sales Manager, moved from Peru to Australia, she faced many roadblocks as she searched for a job, despite her experience in sales. Learn more about her story below.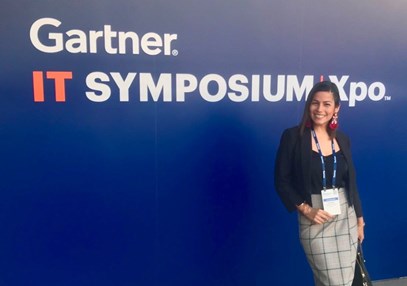 When Claudia graduated with her Bachelors in Marketing and Business, she knew exactly what she wanted to do with her degree: work in marketing for a large consumer goods company. Instead, however, she found herself following her father's footsteps and entering the Information Technology industry with a role in marketing. As Claudia excelled in her role, she was offered the opportunity to leave her marketing position and enter a sales role at the same company. Through this opportunity, she discovered her passion for sales which she continued to pursue while living in Peru. 
In 2015, Claudia met her husband who was originally from Australia and decided to take on a new challenge of moving to Australia and pursuing a sales career in a new region. Even with her track record of success in the space, Claudia was turned down for role after role because she lacked an already established local network. Disappointed and desperate to find work, she accepted a position where she helped recruit sales professionals. While this wasn't aligned to her long-term goals, Claudia was excited to be able to start her career in Australia. 
After a couple of months in her new role, Claudia received a call from a Gartner recruiter asking her if she would be interested in learning about a position at Gartner. Immediately, Claudia shared that she still did not have a network in Australia and would understand if that would prevent her from being the right fit for the role. Instead of the typical "thank you for your time" that Claudia had heard time and time again, the recruiter said that did not matter and asked if Claudia would be interested in joining Gartner for a Recruiting and Networking Event hosted at Gartner's Sydney office. 
Claudia accepted the opportunity to attend the networking event and took in the importance of making a strong impression on everyone she met. As she walked into the room full of sales associates at Gartner, she made it her goal to have a memorable conversation with each person in attendance. Her confidence and determination worked and Claudia was offered a position as an Account Executive at Gartner. 
On her first day at Gartner, Claudia was joined by other newly hired account executives as they started their training academy. As she spoke with the other newly hired associates, she realized that many of them had more experience or a larger local network than she did. Instead of letting this hurt her confidence, Claudia used this realization as motivation to work harder to be successful among her peers. As she reflected on this experience now, Claudia realized that it did not matter the level of experience any of these associates had on their first day. The associates who proved to be the most successful over the years had a number of qualities that helped drive their careers: 
Positive attitude
Fast learner
Willingness to work hard
These are all qualities that Claudia possesses and have helped her be successful at Gartner. From being recognized as a top performer in her first year to getting promoted to a Sales Manager role in 2020, Claudia's willingness to work hard and determination have led to her success at Gartner.
Ready to seize the opportunity? View and register for upcoming recruitment networking events here.