At Gartner, we often share that our associates have the opportunity to grow without limits, but what exactly does it mean? According to Andrea Shinn, Director of Communications for Global Services & Delivery, it means limitless lateral and unilateral growth. 
Andrea started at Gartner 9 years ago with a position on our Midsize Enterprise Sales team. Since then, she's worked on our Client Services team as a Client Partner and a team manager, our Learning and Development team, and now our Communications team. Read on to learn more about Andrea's growth at Gartner.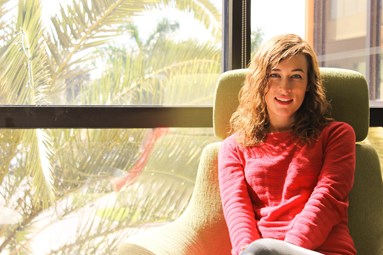 By, Andrea Shinn
I started my career at Gartner on the Midsize Enterprise Sales team. In addition to being my first position at Gartner, it was also my first position out of college. I learned a lot in this role, including the realization that sales wasn't the right fit for me. After reflecting on what I enjoyed and did not enjoy about my role, I decided to apply for a position on the Client Services team. In this role, I was focused on delivering value to our clients and supporting their renewal, which better aligned with my interests and skills. 
In 2014, I became a Client Success Partner and loved working with my technology vendor clients. After two years as a Client Success Partner, I was promoted to a leadership position which offered me the opportunity to coach and develop other associates. 
After two years in leadership, I decided to move into a new role as a trainer on our Learning & Development team for Client Services. I knew that in this role I would have the opportunity to support the growth of associates and broaden my skill set. One aspect of my role as a trainer was facilitating classes. While I had coached and mentored other associates in my role as a team manager and watched others facilitate, I had no experience in facilitating a class. My first time facilitating was challenging, but I was able to learn and grow from the experience. The continuous learning at Gartner has been a common theme as I've transitioned into different roles.  With each new role I'm stretched to develop new skills or use existing skills at a new level. Fortunately, I've been surrounded by people who have helped me grow and develop and supported my success in each role. 
A small part of my role as a trainer involved communication, and as I reflected on the role, I realized how much I enjoyed it – everything from the strategy to the messaging to working with stakeholders across the business. Last year, my communications responsibilities expanded and eventually became my full-time responsibilities. This January, the role change became official as I moved from the Learning and Development Team to our newly formed Global Services & Delivery Communications Team. In this role, I've expanded my skills in working with stakeholders across the business, developing communications strategies, and crafting messages that are tailored to my audience. It's been an exciting – sometimes challenging – journey.
If someone was considering a career change, I would advise them to think about what elements of their current role they enjoy (what responsibilities do they look forward to doing each day), and what elements do they tend to put off because they feel drained afterwards? Try to identify those elements, and from there, look for a position that will allow you to spend more time doing what you enjoy and less time doing what drains you. I can honestly say that each career move I've made at Gartner has allowed me to spend more time doing what I enjoy – from working directly with clients to training other associates to communicating a message to stakeholders across the business. I truly enjoy coming to work each day and feel so fortunate to be able to say that.
---
Learn more about opportunities at Gartner here.