Diversity, equity and inclusion (DEI) are at the heart of our corporate culture — we're dedicated to getting better every year through our commitment to continuous improvement. Gartner associates in our Sydney office locations have hosted several events and continue to seek out opportunities to foster a more inclusive environment where everyone can thrive. Read on to learn more.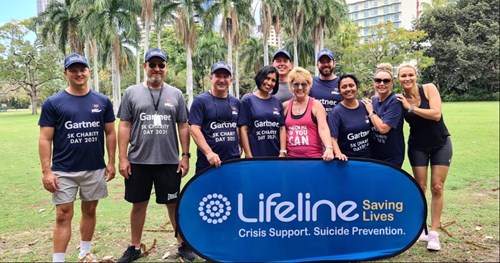 Gartner 5K Charity Day
Our associates joined together to organize a 5K to raise money for Lifeline, a 24 hour crisis support service. In order to maximize the impact of our associates' collective efforts, Gartner matched all donations through our Gartner Gives Charity Match program. In total, through our associates' contributions and hard work, we were able to exceed our $50,000 goal. 
DCA Pledge
Jennifer Ham, Warren Anderson and Steve de Wit recently pledged their support on behalf of Gartner for the Diversity Council Australia #IStandForRespect campaign. This pledge recognizes our commitment to standing against gendered harassment and violence in all its forms. Learn more about the pledge here.
Our Benefits
We know that our associate's personal circumstances vary, which is why we offer a variety of comprehensive benefits to ensure that our associates feel supported in all aspects of their life. From mental well-being support to generous paid parental leave, to opportunities to form meaningful connections in our Employee Resource Groups, our benefits take a holistic approach to wellbeing. In Australia, we also offer our associates company-funded private health insurance. Learn more here. 
Real Talks 
Our associates have hosted numerous "Real Talk" sessions to provide a safe place to share experiences and thoughts. The real talks helped create a platform for open and honest conversations about current topics that are important to our associates such as mental health, sexual harassment, and race. 
We continue to invest in DEI with the appointment of a DEI Program Manager for APAC, who works closely with our Employee Resource Groups in the region to drive inclusivity. Learn more about inclusion at Gartner here.