Recently, a team of Gartner associates from India visited the local schools with the partnership of Peepul, a non-profit organization. The initiative was aimed at gathering insights from these schools which would then be used to assess areas of development, thus aiming to create a better environment for the students and teachers. Check out our blog below to learn more about this initiative.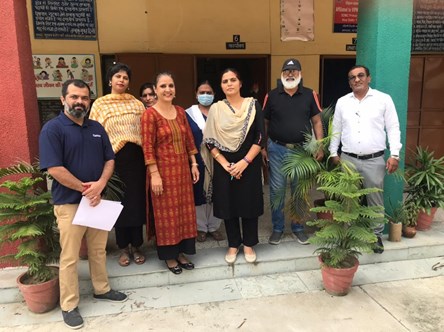 Educational crisis in India
India has been in the midst of an educational crisis for a long time now. The country has over 250 million students and 9 million teachers. However, the quality of the education system is far from the desired standards, with many students not being able to read and do simple math. Only 44.2% of all students in government schools in Class V in India are able to read a Class II text (source).  
Also, beyond the staggering impact on human life, COVID-19 has greatly disrupted access to education in India, with 247 million primary and secondary school students out of school (source). Non-governmental organizations have been active in helping schools and teachers to ensure that each student has access to minimum education standards. The need is to create better classrooms and facilities for the students. 
About Peepul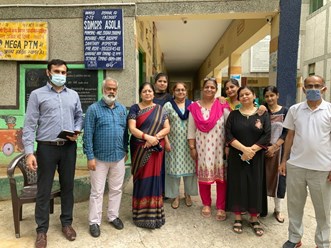 Peepul is one of the organizations that is transforming the education system by creating an environment for students to have meaningful interactions with the teachers. In 2020, Peepul launched SDMC Sitara, Delhi, an initiative to empower teachers for creating better classrooms. Currently, this initiative involves completing a School Human Resources & Infra Diagnostic Study in the South Delhi Municipal Corporation (SDMC) schools, which is an effort to assess the quality of the infrastructure and human resource status in the SDMC schools. This enables the collection of live data as per questionnaires provided to volunteers and gathers insights through conversations with principals and teachers at different schools. The collective effort and compilation of this data will help Peepul to focus on key issues faced by each school and their staff and will further result in channeling the aid and support by other NGOs in the right direction.
Transforming The Education System by Volunteering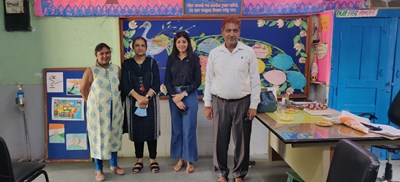 Prior to the start of this school year, Gartner associates geared up to participate in this initiative and visited the schools as inspectors helping the government officials access the school surroundings and provide feedback. "It was a very warm experience for the volunteers, where they got to interact directly with the school teachers and inspectors. It is an immense effort they all put in to run the school, with a shortage of funds. All this was very heartwarming to hear," said one of the volunteers. 
This opportunity was a unique way of giving back to society. It was not any regular school visiting activity. Our associates were involved in the discussion around core issues that the education system is facing. The questionnaire provided by the Peepul contains great potential and played a key role in capturing each aspect of day-to-day challenges faced by these schools, teachers, and the education system. 
"In my personal experience interacting with the school principals, teachers, and school staff and understanding their challenges at ground level, as well as acknowledging their achievements was the main highlight of this whole exercise and in true words was a great sense of serving our national education system which is the foundation of development," quoted by another Gartner volunteer.
At Gartner, integrity is at the core of what we do. This means striving to not only be a great company but also to be a good company. Learn more about how we're creating a more successful future for our associates, our clients, and our world through our approach to corporate responsibility here