Throughout my time at Gartner, my close colleagues and I have been participating in annual holiday activities centered around giving back and supporting others in need. There was one, in particular, we enjoyed – Festive Fitness Fun.  In 2019, we decided to introduce this initiative to our colleagues on the HR practice team to increase participation. We've since extended the event to span a full week.  Why do we do this?  It really creates a culture of inclusivity, a sense of community, and of course, lots of fun during the holiday season.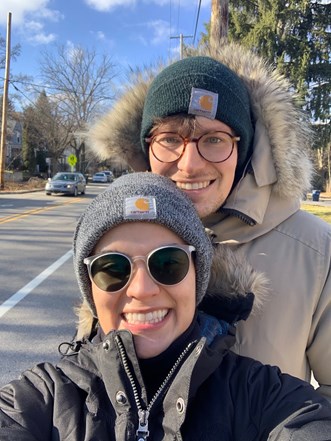 Festive Fitness Fun is a week-long event run by our HR practice and consists of activities intended to support physical and mental well-being.  These quick (typically 10-15 minute) sessions were hosted at various times throughout the day to make it possible for teams across the globe to join in on the fun. We would do simple exercises or hold a relaxation/meditation session.  We also included associate-led activities such as making latkes, painting with pastels, tap dancing, trivia, or just taking a walk.  Gartner associates sponsoring each event were given the opportunity to select an organization or cause to support and, with the GartnerGives Charity Match program, we were able to make more substantial contributions.
In 2019 we raised approximately $3,500. But, in true Gartner fashion, we set a new goal for 2020 and worked together to raise more than the previous year – and we did it! In 2020 we raised over $5,000 to be donated to organizations including Toys for Tots, Charity Water, Foundation for Prader-Willi Research, World Wildlife Fund, Meals-On-Wheels America, Lost Dog and Cat Rescue, and Partners in Health.
"As a relatively new associate, it was a great and rare opportunity to get to see people outside of the typical work context, especially during this time of remote on-boarding and work. That was really motivating in combination with the benefit to charity!"  Kayla Velnoskey, Principal, Research
"It was a nice forcing mechanism to take breaks throughout the workday and even better to be doing so as a fundraiser for so many worthwhile causes. Seeing and engaging with colleagues, many of whom I don't interact with regularly, was the cherry on top of an already fulfilling cake!" Stessy Mezeu, Senior Research Specialist.
We are fortunate to work for a great company where we have the privilege of working with and supporting leaders of the finest organizations in the world. When you combine that with a company culture that encourages us to pursue our personal goals and passions and empowers us to give back to causes and communities that we care about most, it truly makes you feel fulfilled. This permeates the business and fosters our unique culture. We're looking forward to continuing this initiative in 2021 and inviting our colleagues from all areas of the business to join us to make an even greater impact.
---
At Gartner, integrity is at the core of what we do. This means striving to not only be a great company but also to be a good company. Learn more about how we're creating a more successful future for our associates, our clients, and our world through our approach to corporate responsibility here.