Throughout the year, members of the Gartner team gave back and volunteered in their local communities. Learn more about Gartner's Partnership with SPEF, Stamford Public Education Foundation, and how our teams got involved in various activities.
In Stamford, Connecticut, home to Gartner headquarters, food and education are not equally accessible to all. And, like communities across the country impacted by the outbreak of COVID-19, Stamford continues to see workers and schools go remote, businesses close, and social safety nets pushed to their limits. Gartner, in partnership with the Stamford Public Education Foundation (SPEF), is actively participating in various programs and initiatives to help alleviate some of the stress in the community.
Gartner partnered with SPEF in early 2020, before the outbreak of COVID-19, pledging funding and volunteer hours to support SPEF's mission to deliver educational programs and resources that elevate student, educator, and parent success by bridging the gap between needs in the Stamford Public Schools (SPS) and resources in the community. Gartner leadership expected its sponsorship to make an impact across the 21 local public schools served by SPEF as part of a commitment to be good corporate neighbors. 
Many Gartner associates were in the process of enrolling as volunteers with SPEF when programs were suspended or shifted online, yet that did not stop Gartner and its associates from charging ahead with their commitment to support the local community.
"This year was an extremely challenging one because most of our programming is usually in person. It is great to have a partner that is open to hearing new ideas and is willing to adapt and adjust to circumstances. The key to our partnership in 2020 was agility. With the support of the Gartner team, we were able to quickly pivot and move forward without losing momentum," said SPEF Development and Communications Director Lynn Tusa.
To date, Garner associates have contributed over 200 volunteer hours to SPEF programming.
Helping Hands Initiative
To carry out its mission in the "new normal," SPEF launched the Helping Hands Initiative, which included a series of programs and volunteer calls-to-action to support SPS students and families. 
Nicole Castagna, Professional Development Specialist at Gartner, who volunteers as a Home Work Helper shared, "Gartner's partnership with SPEF has allowed me, and many others from Gartner, to contribute to youth education in our community and drive greater student engagement. It's hard to believe that just an hour a week, over time, can form valuable tutor-tutee relationships, deepen student's understanding of class content, and provide parents some alleviation from the constant juggling of priorities."
The Home Work Helpers program launched as part of a series of programs under SPEF's Helping Hands Initiative in response to COVID-19 complements the distance learning provided by the public school by offering free, online and interactive homework help for elementary grade students. Prior to 2020, the service was not offered virtually, and would not have been possible without the volunteers that stepped up.
"It's exciting to see Gartner associates committing their time to others," continued Nicole.
Home Work Helpers like Nicole have contributed to providing virtual homework help to 28 SPEF families so far this fall. The mother of "L", Nicole's Home Work Helper student match, is grateful for the program.
"L's sessions with Nicole have been going really well! We are so thankful to continue the program this fall.  L always looks forward to her sessions with Nicole. Even though it's only 1 hour a week, they are a great help to us during this time and Nicole's support is much appreciated!"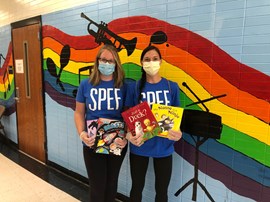 SPEF's Books Across Stamford, an engaging literacy program focused on motivating children to read by distributing free books and literacy resources to children and families, also benefited from the participation of Gartner volunteers this past year.
"It's amazing to see local organizations come together to help members of their community in need," noted Amy Belanger, Senior Employer Brand Manager, one of the volunteers from Gartner.
SPEF, along with additional partners Reading is FUNdamental, the Scholastic Possible Fund, and Stamford's Ferguson Library, distributes approximately 5,000 brand new books every year to elementary school children through book give-a-ways and donations to community centers throughout the city.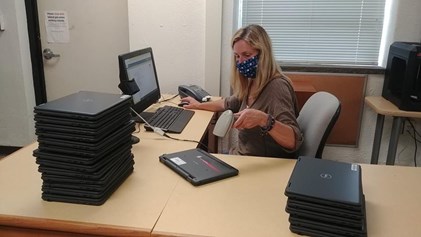 Gartner volunteers also joined other SPEF partners and Stamford High School parents to unbox and prepare 2,500 laptops for distribution to students in time for the first day of school. The brand new, donated laptops were at risk of sitting in storage due to limited people power at the high school, but thanks to community volunteers and social distancing protocols, the complete shipment of laptops were unboxed and processed in two days. The laptops were distributed to Stamford High School students who need them to access distance learning this new school year.
Responding to the city of Stamford's call for volunteers, Ellen Carey, Senior Director, User Experience Research, jumped into volunteering with SPEF to help hand out meals to families at a local elementary school.
Ellen commented, "It's easy to get wrapped up in my deadlines and findings and email threads and lose sight of what matters to others. By working with SPEF, I am able to look at a parent or child in the eye and see hope and gratitude when I hand them a meal or a book. Volunteering gives me so much hope and reminds me of how grateful I am for my life that it's almost selfish in a way. But spending time in such a good place broadens the view of my world and all the people in it." 
SPEF volunteers contributed nearly 2,000 volunteer hours helping to distribute 434,000 meals. 
MarcUS for Change 5K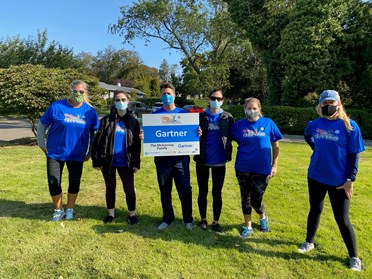 Last September, 40+ Gartner associates participated in the MarcUS for Change 5K Walk & Run. The event, hosted by SPEF and the McInerney family, celebrates the life and memory of Marcus Dixon McInerney, a Stamford High School graduate. This year's "socially distanced event" brought hundreds of royal blue shirts walking and running through Stamford neighborhoods, building awareness of SPEF and its programs and making the 5K event one of the most successful in SPEF history despite the challenges posed by the public health crisis.
Following the success of the event and in recognition of the impact of the partnership, Garner announced it would return as a SPEF partner in 2021.
How to Get Involved
There are many opportunities for community members to get involved with SPEF in 2021 and beyond.
Persons interested in volunteering with SPEF can join SPEF as a Helping Hands Initiative volunteer, supporting Stamford community needs as they arise. Additionally, SPEF tentatively expects its signature Stamford Mentoring Program to resume in the fall of 2021. SPEF offers school-based one-on-one mentoring to middle school students and community-based one-on-one mentoring to high school students through this program, which annually serves 150 students needing additional academic and/or social support. SPEF relies on caring adult volunteers for every match.
To join SPEF as a new volunteer, register online here. To donate, visit http://spefct.org/get-involved/donate/. If you have any questions about SPEF's mission or programs, email info@spefct.org. 
---
At Gartner, integrity is at the core of what we do. This means striving to not only be a great company but also to be a good company. Learn more about how we're creating a more successful future for our associates, our clients, and our world through our approach to corporate responsibility here.