One of the core foundations on which Gartner's culture is built is creating positive impact on society. Our associates have continued to work. Below, is the partnership between Gartner and Donate an Hour, India – which has helped in bringing smiles.
India is a leader in the world for requiring companies to both implement and report on their programs to help Indian communities and society. However, in most parts of the country, health, education, and living standards are less than ideal. Over the past five years, Gartner's partnership with various non-profit organizations has helped Indian communities in the areas of public health, education, and infrastructure. The focus has always been on providing facilities and infrastructure for the betterment of living conditions. 
Our associates in India partner with Donate an Hour (DoaR), a volunteering platform that engages people to build a self-sustainable ecosystem for the less privileged sections of the society in India. They are dedicated to uplifting communities in education and healthcare and work towards the development of rural areas in India. Through initiatives like 'Explorer Academy' and 'Nuh', DoaR has been impacting the lives of many people since its launch in 2014. During the onset of COVID-19, DoaR's work ensured that people in their community are not sleeping hungry, that kids have access to education, and they have a roof over their heads to live safely. 
Gartner's partnership with DoaR started back in 2016, with a vision to promote better health and education to the underprivileged sections. Together they have successfully executed various projects: 
2016: Slum Cleaning drive in DLF Cyber City area 
2016: Health Camps in Sector 48. 
2017: Career Counseling and school beautification project – Nuh Haryana 
2018, 2019: Support for the "Garbage to compost" program in Nuh.
2019, 2020, 2021: Supporting Explorer Academy 
2019, 2020, 202: Education sessions on various topics for the students of EA in 
2019, 2020: Smart Class project for the villages of Nuh. 
2020, 2021: DoaR Solar – Street solar light installations in the villages of Nuh. 
Anjali Grover, Senior Director, Research at Gartner has been a key pillar in the partnership between Gartner and DoaR. Recently, she organized two programs to commemorate International Women's Day, 2021:
Virtual Session With Explorer Academy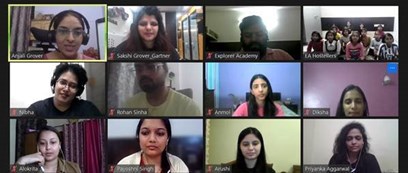 In keeping with the most common challenges faced by adolescents in India while growing up, our Women at Gartner team hosted a session with some of the students of Explorer Academy, a student outreach arm of DoaR. These topics range from the importance of personal hygiene, dealing with adolescence, good vs bad touching (physical interactions with others), healthy eating habits, personal care, how to deal with stress and peer pressure. The goal is to equip students to be the most successful they can be: professionally, personally, and as part of their community. A bright group of students from the Academy actively led the conversation during the virtual session with our team.
"The zeal with which the students participated, made the event a rewarding and positive experience for all of us," commented Anjali.
Donation Drive to Aid Domestic Helps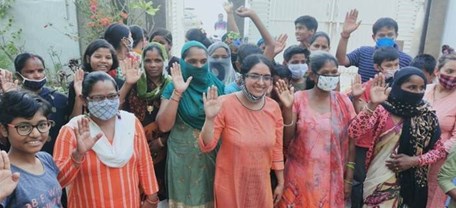 To support those who struggled financially due to the lockdown in India, Women at Gartner volunteers worked with DoaR to collect funds to purchase dry rations and items for everyday use for domestic helpers. A virtual discussion to observe this during International Women's Day. Despite current conditions, Anjali made the effort to be physically present in the DoaR premises and to distribute the items personally which shows just how passionate she is about the cause and the value of making a personal connection with those we're able to support.
---
At Gartner, integrity is at the core of what we do. This means striving to not only be a great company but also to be a good company. Learn more about how we're creating a more successful future for our associates, our clients, and our world through our approach to corporate responsibility here.