It's the year 2021 and we are witnessing climate change all over the world – from floods to rising temperatures. Considering the 'heat of the moment' and our long-term commitment to environmental sustainability, 17 Gartner associates in Gurgaon joined the Corporate Social Responsibility (CSR) team to mark the continued partnership with NABET, a non-profit organization to plant over 50 trees in the proximity of the newly built Gartner office in Gurgaon, India.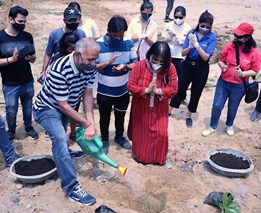 Why NABET?
NABET runs an initiative under the name "Project Vriksha"– whose main aim is to sensitize the citizens about the need to protect the environment. They have planted and distributed thousands of trees in a short period and encourage people to be aware of how a small step like planting a tree can bring a tremendous change in our environment.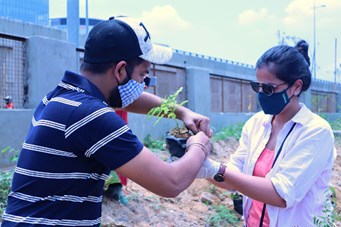 Greens Between the Greys
Gurgaon is India's second-largest information technology hub and third-largest financial and banking hub. With offices and concrete land all around, it's important to plan the green infrastructure as well. Therefore, the volunteers from Gartner were very happy to be a part of this initiative which is much needed at this moment when cities are facing issues related to ecological imbalance. Not only this, in the future when the trees will be grown in this 1.3 acres of land, it will provide a green space for Gartner Gurgaon Associates and other people who have their offices nearby, to spend their breaks and quality time.
More plants and trees will be added to the same land shortly to make maximum use of the area. These plants will be taken care of closely – watering them and making the soil fertile with compost.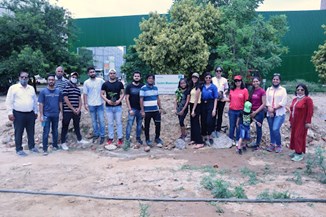 Support and Get Involved
There are many ways in which community members can get involved with NABET. Learn more about their initiatives and explore volunteer opportunities or ways to donate here.
To learn more about Gartner's CSR efforts in India, click here.
---
At Gartner, integrity is at the core of what we do. This means striving to not only be a great company but also to be a good company. Learn more about how we're creating a more successful future for our associates, our clients, and our world through our approach to corporate responsibility here.