Written By: Jen Porcelli, Program Manager for Diversity Recruiting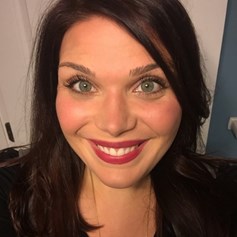 I've spent over 10 years of my professional experience in the Talent Acquisition space. I began my journey as a recruiter searching for top talent. Now, as a Program Manager for Diversity Recruiting, I support our Global Recruiting teams in their efforts to identify talent from Underrepresented Groups. I have met, interviewed, and hired more candidates than I can count for various positions at all different levels. And while I certainly don't remember every single one of my hires, there are a handful of individuals that still stand out in my mind. These are the candidates that not only possessed the tangible skills and work experience needed for the job, but also presented themselves in a way that made them memorable.
So what makes a candidate unique? What characteristics give a candidate that "It" factor? It's called "executive presence," and it just may be the key to distinguishing yourself.
Executive presence is a blend of temperament, competencies, and skills that sends all the right signals. Leaders know they must embody executive presence to get ahead, influence others and drive results. Leadership development professionals know they must help their executives develop it. It is often this missing link between merit and success. Executive presence goes far beyond strong communication skills or other measurable abilities. It's about how you are perceived and your personal brand.
According to research conducted by the Center for Talent Innovation, executive presence is a combination of the following three components:
Gravitas
Communication
Appearance
When I broach the topic of executive presence to students on campus, I am always met with a barrage of questions. The most common I receive are the following:
If I have the skills required for the job, do I really need executive presence?
Is executive presence something you just have, or can it be learned?
While possessing a specific skill set or commensurate experience a job requires is essential, demonstrating executive presence, especially during an interview, can tip the scales and ultimately make you stand out as a candidate. And while executive presence may not be something taught in school, it can certainly be cultivated. Below are some tips and tricks to help you fine-tune your executive presence, and get you ready to crush your next interview with confidence!
Deploy emotional intelligence
Emotional intelligence is your ability to identify and manage one's own emotions, as well as the emotions of others. Someone with emotional intelligence is able to be completely self-aware of how they are feeling and think before they act. They are empathic; they listen, and they are also intrinsically motivated by what's important to them.
An example of using emotional intelligence during an interview would be recognizing you are nervous, but instead of panicking, using that nervous energy to fuel your or demonstrate your passion for the role.  Additionally, using emotional intelligence means you actively listen just as much as you are talking. Remember: A little empathy can go a long way.
Ask for feedback
Both asking for feedback as well as utilizing feedback to acknowledge others is an effective way to develop your executive presence. Requesting feedback, whether after an interview or as an employee, shows you are someone who values development. If you are able to implement the feedback you receive, it also demonstrates your ability to not only listen but to accept being coached.
Communication is key
Both written and verbal communication are key components of developing executive presence. Being able to articulate yourself with clarity and consideration to managers and peers will allow you to develop stronger relationships, work more efficiently, and develop a positive brand for yourself. If you feel you struggle with being able to communicate effectively, there are lots of tools you can utilize to help you develop this skill.
Take a public-speaking class, participate in mock interviews or compile feedback from classroom presentations to identify both your communication strengths and areas for opportunities. If you feel you struggle with written communication, there are resources out there for you, too! There are great free courses and templates available online to help with writing that focuses on topics, from being concise in an email, properly written business acumen, or simply grammar.
 Look the part
First impressions are everything and how you present yourself to a potential employer can have a great impact on hiring decisions. It's important to remember your appearance is not limited to the way you dress. Dressing appropriately for the role you want and ensuring you are not unkempt is important, of course, but there are other things to keep in mind.
Carry yourself with confidence — stand tall, have a firm handshake, and make eye contact. Even if you are feeling like a bundle of nerves (insert emotional intelligence here!), make sure to smile and be approachable. When you are interviewing, you want to show you are fully present and fully engaged. Body language can speak volumes!
As you begin your job search or start a new career, think about the kind of employee you want to become. Do you want to be recognized as a leader? Do you want to stand out among your peers? Do you just want to be able to communicate effectively? Whatever your aspirations may be, developing your executive presence early on can help get you there.
Are you interested in joining the Gartner team? Search for an available position here.
---
Are you interested in pursuing a career opportunity with Gartner? When you join our team, you'll be given all the tools needed to succeed and accelerate your career path. Discover more about our limitless growth and professional development opportunities here.