With offices in some parts of the world beginning to reopen, companies must determine what the future of work looks like for their organization. Read on to discover why many companies are considering a hybrid model for their reopening strategy.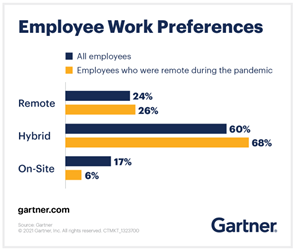 A hybrid work model empowers associates to make a decision on where they work, offering the flexibility that many associates are no longer willing to work without. While many employees may want to return to the office in some capacity, the majority of employees do not want to be forced to return to the office full time. In fact, in a recent Gartner survey, 60% of all employees surveyed prefer a hybrid model. Further, 76% of employees working for a company that switched to remote work reported an overall improvement in culture since the shift occurred. 
We know that everyone's personal situation is different, and what works for one individual, may not be ideal for another.  With that in mind, Gartner recently announced that we will begin to reopen our offices, starting in mid-June 2021 where it is safe to do so, however, all associates have the option to continue working from home through the remainder of the year. This allows our associates the opportunity to continue to prioritize their safety and well-being while still delivering on their personal and professional goals. With this transition from a fully remote workforce to a hybrid one comes new challenges. Below, we're sharing our top 3 tips to help you be successful as you continue to adapt to new ways of working.
Whether you are in the office or working remotely, it is important to schedule consistent check-ins with your manager and your team. Wherever you decide to work, consistent check-ins will provide a space to address concerns and priorities even if you are not seeing your manager or team in person on a daily basis. 
In a hybrid model, your team may be split in their decision to work from home or return to the office, so your meetings may continue to be virtual instead of in person. Even if you decide to return to the office, it is still important to turn your camera on and limit multitasking during the call. It's a good habit to look at the camera whenever possible – not just when you're speaking.  Looking at the screen can give the impression you're doing something else and not paying attention to the person speaking.
Create and Maintain a Schedule
Whether you decide to return to the office or continue to work from home, creating a schedule can help you stick to a normal routine. If you are opting to work from home, try to stick to a similar schedule that you would have if you were in the office. Sometimes when you work remotely, it's easy to lose track of time because you are not 'packing up for the day' when you're ready to head home, which can often lead to overwork. Thus, planning out your schedule can help prevent you from overworking, regardless of where you decide to work from. 
If 2020 taught us anything, it is how fast things can change. The hybrid work environment is new for many of us, our coworkers, and even our employers. Thus, it is important to stay patient with others as we all navigate this new work environment. There may be some bumps in the road and it may take some getting used to, however, the added flexibility can help you and your team increase performance and diminish the remote work fatigue that you may be experiencing. 
---
What advice do you have for employees who are switching to a hybrid work model? Share in the comments below.