Devon Defoyd, Sales Learning & Development (SL&D) Manager started her career at Gartner over three years ago as a Business Development Manager and made her place in the Winners Circle within the first four months. Having qualified for Winners Circle twice and Eagle, Gartner's top-most sales award once, Devon credits her success in the sales role to the onboarding and training imparted by the Sales Learning and Development (SL&D) team. 
"The talent of the former top performers that were sales coaches absolutely captivated me – and that motivated me to work as hard as I could to be like them. To get off to a fast start, I immersed myself in the onboarding and held myself accountable on becoming an expert in how to sell Gartner," shared Devon. 
Deeply impacted by her positive experience with the SL&D team, Devon took the opportunity to join the SL&D team as a Manager for North America, where she leads Expedition, a world-class onboarding program for future top performers. 
Choosing the Career Path
"I chose to move to Sales Learning & Development for both personal and professional reasons, and I couldn't be happier," shares Devon. Read on as she shares her motivations for making the switch: 
Experience as a New Hire: Highlighting that the SL&D training was critical in helping her succeed in her sales role, Devon said that she is passionate about creating similar experiences for the hundreds of individuals who join Gartner sales. She aims to motivate, encourage, enable their success, and help them achieve the Winners Circle and Eagle honors. "There is truly no better feeling in the world than helping someone develop critical sales skills and achieve these accolades," Devon added.  
Strategic Skill Development for Career Goals: Acknowledging how much she enjoys mentoring, teaching, and helping others succeed, Devon tried to calibrate her skills and passions with potential career paths at Gartner. Devon believed that a leadership role was the natural next step and applied for the SL&D Manager role.
Strengths and Passion: Devon, who is also a yoga and group fitness instructor, finds joy in motivating her students and helping them reach their goals. "There is nothing that I love more than enabling the success of others – both inside the studio and in the Gartner classroom," Devon said.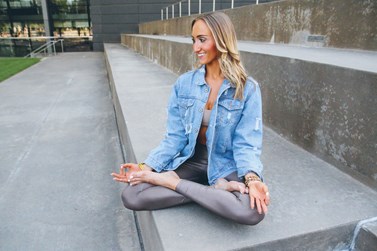 Developing Skills to Succeed 
In her pursuit of excellence in the new role, Devon conducted a skills inventory and realized she needed to build stronger coaching skills. She worked towards strengthening her skills such that she was able to diagnose the strengths and improvement opportunities of new hires within the first five minutes of a role-play or deal review.
Devon has spent the first two months in her new role developing critical skills in coaching, including:  
Facilitation, where she learned how to engage around 100 individuals in a virtual environment;
Stakeholder management, for collaborating across all channels of business;
Clear communication, to ensure content mastery across all styles of learning and development;
Change management and leadership, to create a positive onboarding experience for the new hires
Sharing her advice for associates who are aspiring to make the transition to SL&D, Devon said, "if coaching, helping, and enabling bring joy to you, SL&D is the right place for you! This role was the right fit for me because I knew in my heart and my gut that it was something I was genuinely excited to do, every single day."
Can you see yourself working with people like Devon? Explore open roles on our Sales Learning & Development team here.