Jatin Kumar, now a Marketing Associate at Gartner, began as an intern on our SEO and Promotion team. We sat with him to hear about his journey so far. Learn what he shared with us below.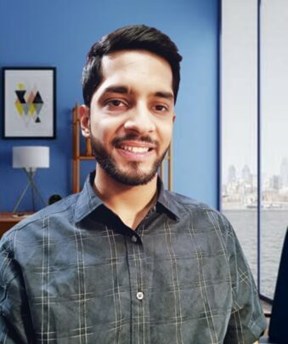 Tell us something interesting about yourself
I was born and grew up in Delhi, the capital city of India. I come from a nuclear family and since my childhood, I was taught to explore as many diversified talents as possible and to always dream big. I'm very passionate about music, arts & crafts, and mysterious dark space stories. I love all kinds of sports and especially have a keen interest in football. I've also taken an interest in calisthenics, travel & lifestyle blogging, photography, and events management.
How did your journey begin with Gartner?
Being a tech-savvy and marketing aspirant, I chose to kickstart my career in the Digital Marketing domain. With the eagerness that a fresher could have to enter into the corporate world, I began to chase job opportunities in the middle of the pandemic where most of the companies were laying off their employees. Then finally after a long hustle, I came across this SEO Marketing temp role opportunity at Gartner, and before giving it a second thought I applied right away. 
How is Gartner different from other companies?
I joined Gartner as an intern in September 2020. The internship provided me the perfect platform to unleash my potential and dive deeper into the professional and personal development foundation one needs at the very beginning of a career. I feel so privileged to work with the brightest minds and leaders from all across the world. Even though I was a fresher with little internship experience prior to joining, I was always supported by my manager who was also my mentor. I was given ample opportunities to grow and had access to endless resources, tech assets, and training sessions with no bars along the way. Although I was a temp resource for the company, I never had that typical intern feeling at any point. This is how Gartner differentiates its very own employee-friendly and flexible culture from other companies. We have been given the opportunity to work remotely amidst the  COVID-19  situation which has allowed me to prioritize my health and safety without having to put my career on hold.  That being said, I must say Gartner always placed its employees' well-being and work-life balance as its utmost priority.
Tell us about your proudest moment here.
Before long, I got fully 'gartnerized' in April 2021 and transitioned to a full-time Marketing Associate. Within a year of working with the SEO/Promotions team, I was entrusted with co-hosting an internship program for 2021. This program empowered me to leverage my skills, knowledge and apply my leadership and decision-making instincts to real-world scenarios. Through this program, I evolved from being an intern last year to selecting the next interns to expand our team. This was a huge responsibility and a very rewarding experience for me. Most recently, I was given the task of training new folks joining us (a nostalgic moment for me) with the added responsibility of mentoring them to help them quickly get up to speed and reach their full potential – ultimately driving greater business outcomes. I deeply appreciate those who have helped shape me into who I am today.
"What's better than an opportunity to work for a company that invests in its people and motivates them throughout their career to expand their knowledge, skillset and explore opportunities beyond their current role."
I can proudly say that all these learnings contributed to my transformation from a corporate infant to a confident professional.
Any words for our readers?
Looking back, I can say without a doubt that joining Gartner has been a marvelous journey for me so far and I'm very much excited to reach new heights in the coming years. Readers, if you are passionate about your career goals – Gartner's got you!
---
Are you interested in pursuing a career opportunity with Gartner? When you join our team, you'll be given all the tools needed to succeed and accelerate your career path. Discover more about our limitless growth and professional development opportunities here.