Gartner associates around the world have a history of going beyond their day jobs to give back to their local communities. On numerous occasions, the team has been able to help those who need us the most. Recently some of our associates in Singapore, who rose to the challenge of helping others in their community during the global pandemic, were recognized for their efforts.
Delivering Oxygen Tanks To Indonesia
When Cindy Adriaan, Account Executive found out from the Indonesian Embassy in Singapore that hospitals in her home country of Indonesia did not have enough oxygen or oxygen tanks to support patients with mild COVID-19 symptoms, she knew she had to help. She began raising money via a community platform to get much-needed oxygen tanks to Indonesian hospitals across its different islands. This platform was fully endorsed by the Indonesian Embassy and Ministry of Health of Indonesia so 100% of the donations Cindy raised went towards procuring oxygen tanks.
Due to her incredible efforts, Cindy exceeded her donation goal by more than 121% and was able to fund the delivery of over 1,200 oxygen tanks to Indonesia.
Getting Recognized for their Efforts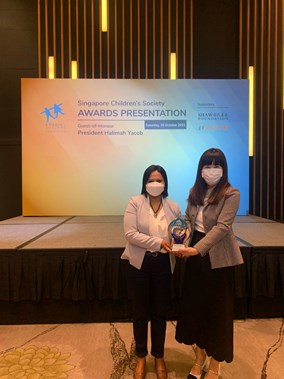 On 30 October, Sasmita Sahu, Director, and Denise Khoo, Deputy General Counsel represented Gartner at the Singapore Children's Society Awards Presentation to accept the Gopal Haridas Award from the President of Singapore, Halimah Yacob. This award was granted to Gartner to recognize its generosity during the pandemic when Singapore Children's Society was struggling to raise funds.
On 19 October, Moe Ali, Global Vice President accepted the Charity Platinum Award from the Singapore charitable organization, Community Chest, on Gartner's behalf. This award recognized Gartner for its generous reinvestment of funds from the Government of Singapore into the Singapore community to support organizations - including Community Chest.
The examples above are just a few of the many ways in which Gartner associates continue to step up and play an active role in improving local communities and impacting global efforts. Interested in learning more about how our associates are making an impact? Learn more about our Gartner Gives initiatives here.