Our associates in Australia recently organized a 5k to raise money and awareness for Lifeline, a non-profit organization that provides 24-hour crisis support and suicide prevention services. With the uncertainties and difficulties that many have faced while navigating the pandemic, Lifeline's services have proven to be incredibly important and continue to positively impact the community.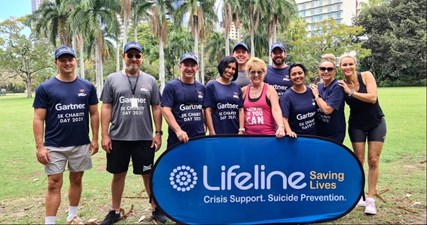 "2020 and 2021 have been two tough years for people and a lot of people have used Lifeline Australia's services to help them through. During these times, mental health charities have seen their revenues plummet, while demand for support services are higher than ever so I wanted to help in whatever way I could. This was the perfect opportunity to do so and it got me active along the way." - Maeve Scanlan, Conference Planner.
140 associates in our Australia offices split into multiple teams to compete and raise money for Lifeline. In total, the Gartner team was able to raise $63,000 AUD including contributions from Gartner Gives, our charity match program. According to a representative from Lifeline, "It costs $39 to answer one Lifeline call, Gartner's contributions will help us answer 1,538 calls and potentially save many lives." 
In addition to raising money for a great cause, this event offered many of our associates the opportunity to reconnect with each other for the first time in over a year. On the day of the 5k, teams came together to walk or run for the cause in areas where it was safe to do so. Martin Tebbutt, Account Executive, was integral in working with our associates and Lifeline to organize the event. His hard work, however, was well worth it "The day itself was amazing. In Queensland, we have still worked fairly virtually, and it was the first occasion many team members had seen each other in the flesh. Then to see photos from around the country, with all different BU partners wearing the shirts and getting outside and exercising, was truly heartwarming."
In areas where social distancing guidelines are still in effect and in person meet ups could not be safely organized, our associates completed the 5k on their own while staying connected to coworkers by documenting their experience on social media (you can also follow along with the lives of our associates by checking out #LifeAtGartner). In addition to this, associates who were not attending in person events received a gift box full of healthy snacks from a generous local business, Tukr. 
Learn more about the event from some of the associates who participated below.  
"I decided to participate in the event to not only give back to Lifeline for their difficult work during Covid-19, but also to immerse myself in Gartner's culture and to network with associates who I had not yet met." - Kenneth Thon, Talent Sourcer 
"2021 has been an extremely difficult year for many Australians who have been in lockdown. I am an avid runner and the Gartner 5k challenge gave me the opportunity to share my passion for running with other associates at Gartner, whilst also being able to raise funds for an amazing charity." - George Hart, HR Associate 
Interested in joining our collaborative culture? Explore open roles here.