The 'silent' sanitation crisis is a ticking time bomb that affects billions of people around the world. 1 in 3 people on this planet still don't have access to a clean and safe toilet; 1,000 children die each day due to poor sanitation; and better sanitation supports better nutrition and improved health, especially for women and children. Sustainable sanitation is a matter of dignity, equality, and safety, and is crucial to improving the health and wellbeing of one-third of humanity. (Source: Click here)
When people in a community do not have proper toilets, their health is threatened. Poor sanitation contaminates drinking-water sources, rivers, beaches, and food crops, spreading deadly diseases among the wider population. Toilets – and the sanitation systems that support them – are underfunded, poorly managed, or neglected in many parts of the world, with devastating consequences for health, economics, and the environment, particularly in the poorest and most marginalized communities. 
World Toilet Day is celebrated annually on 19 November to inspire action to tackle the global sanitation crisis and help achieve Sustainable Development Goal 6 (SDG 6), which promises clean water and sanitation for all by 2030. Even though sanitation is a human right recognized by the United Nations, there is an urgent need for massive investment and innovation to quadruple progress all along the 'sanitation chain', from toilets to the transport, collection, and treatment of human waste.
About Little Drops
Little Drops, a public charitable trust in India, was conceived in 1991. Modestly beginning with providing wholesome residential haven including medical and therapeutic care laced with abundant measures of love to 4 elderly destitute. Over the years, Little Drops became a home away from home for over 1000 discarded elderly destitute rescued from the streets and residing in 10 different branches of the home mostly in Tamil Nadu and one in Bangalore, India. With an increase in the number of residents, there was a desperate need to renovate the toilets,  supplies, and change pipelines to both sewage and water. It was very essential to maintain hygiene for all senior citizens in the shelter.
Improving Life, One Area at A Time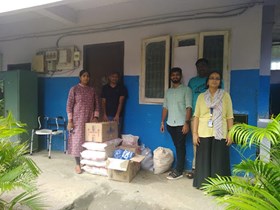 The Gartner CSR team in India supports Little Drops to help them achieve substantial improvement in various infrastructural facilities aimed at improving the quality of life of our elders. Renovating the restrooms has given the residents access to cleaner and better sanitation amenities. The overall hygiene has also improved substantially. There are 14 toilets that still need to be renovated by replacing the floor tiles and the wall tiles, replacing other amenities. This will further improve not only the hygiene but also the overall satisfaction of the inmates. Sewage pipelines have been laid underground for more than 400 feet with 8 chambers ensuring stagnation free area around the dorms and replacement of the water pipeline has meant uninterrupted water supply to the dorms. Pipelines were laid in rescue shelters in Somangalam, Vengadu, and Chinnakanganakuppam village, in India.
Over the past 5 years, Gartner and Little Drops have partnered to bring stable and sustainable progress in improving the very essential need of the hour. Each year the focus is on one specific agenda and resolving their needs. Medical supplies, dry ration, replacing new metal rooftop, installing bore well, fixing sanitary supplies, renovating toilets, replacements of water and sewage pipelines, installing inverters, replacements of metals beds, constructing septic tank, replacing electric cables, stretcher trolleys for ambulances, solar lights are some the improvements that have been brought upon through this partnership. 
Interested in learning more about how our associates are making an impact? Learn more about our Gartner Gives initiatives here.