As part of Gartner's continued involvement with Donate an Hour (DoaR), our associates in India were invited to visit a local campus and have an enriching and fun-filled day with the children. Learn more about the organization and the event below.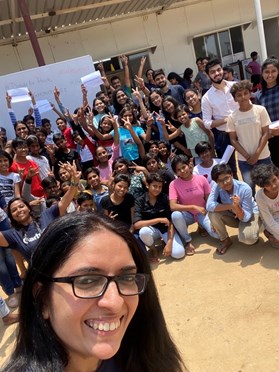 Who is DoAR? 
Donate an Hour (DoaR) is an organization dedicated to uplifting communities in rural regions in India. Through initiatives like 'Explorer Academy' and 'Nuh', DoaR has been impacting the lives of many people since its launch in 2014. DoaR's work ensures that people in their community have access to food, education, and a safe place to live. 
What is it about and what problem does this address? 
Gartner's partnership with DoaR started back in 2016, with a vision to promote better health and education to the underprivileged communities.
For this event, DoaR organized the following two sessions for Gartner associates to participate in: 
Holistic Counseling Session: This was a one-on-one mentor-mentee session in which mentors focused on understanding children's academic, and non-academic interests and the real-world challenges they're facing.. The aim of this 30 minute discussion was to connect with the children and provide them with guidance to help them successfully navigate their personal circumstances.  
Social Ad-Show Session- The objective of this session was to bring out the creative/ innovative side of the children as well as foster common ground for increased collaboration and teamwork. As a part of this activity, seven groups were formed and provided with topics centered on social causes. Each group was given a task to prepare a poster and an advertisement on the given topic and present the same to the panel.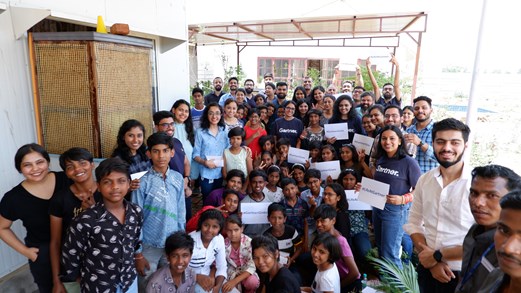 Divya Prakash, Founder of DoaR shared more about DoaR's partnership with Gartner, "DoaR and Gartner started our partnership in 2016. We started with a small project and now Gartner is an integral part of DoaR employment engagement activities."
Learn more about the event and our partnerships with DoaR from our associates who volunteered at the event: 
"We are thankful to DoaR for running the Explorer Academy for the advancement of children from under-privileged families and glad to have the opportunity to volunteer with the Gartner team." – Ram Sharma, MVP, Finance  
"Looking at the transformation of these kids from unsure about their future to confident, driven and thoughtful individuals gives me such a sense of satisfaction and pride. Our association with DoaR is years long and I am grateful that we are able to bring the grassroot change together." - Anjali Grover, Sr Director, Research and Advisory 
 "DoaR is doing a remarkable job of working on various fields of education and community development for the underprivileged. We must give back to society something other than money- time, a smile, a helping hand, a few moments of love and care, and a few hours of education/ learning." – Harneet Singh, Sr. Manager, Territory Planning & Analytics 
 " Interacting with the kids and seeing their transformational journeys  made me incredibly happy. The world's future is bright! I am looking forward to many visits to come!" Anuradha, Recruiter
"It was an amazing experience to be a part of such a wonderful initiative with DoaR.  I truly enjoyed their company and I am looking forward to being part of future engagements." – Aanchal Bhatnagar, Project Manager, Delivery Management 
"Visiting the DoaR campus was a wonderful experience. I was impressed by the positivity of the children. It felt great to have participated in the event and make a contribution." – Shivaakshi Singh, Senior Research Data & Analytics, SRS & Growth Accelerator 
Special thanks to Women at Gartner, India Employee Resource Group for partnering and planning the event.
Learn more about how our associates make a difference in the communities we live and work in here.