At Gartner, we encourage our associates to support their local communities through volunteerism and philanthropy. As a people-driven business, education and continuous learning are at the core of our success.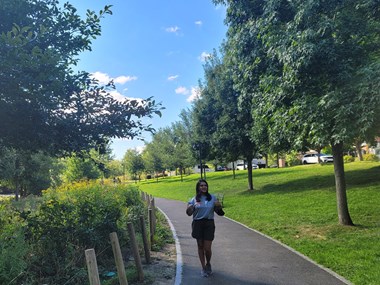 To give back to the local community in which our company is headquartered, Gartner formed a partnership with the Stamford Public Education Foundation (SPEF).  SPEF's mission is to deliver educational programs and resources that elevate student, educator, and parent success by bridging the gap between needs in the Stamford Public Schools and resources in the community. The Foundation's vision is that each and every student in the Stamford Public Schools will graduate high school prepared and inspired to be a productive member of society.
Through SPEF's Employee Volunteer Engagement program, Gartner associates are able to directly contribute to this mission by participating in several programs including mentorship and tutoring for school children, volunteer initiatives in the local area and participation in annual flagship events. 
"Our partnership with SPEF has been one of the highlights of the past year for me. I am a longtime advocate of educational and mentorship opportunities in our communities, so I'm truly grateful to our Stamford-based associates for stepping up to support local schools. To see that relationship with SPEF energize and engage our people, even in these unfamiliar times, makes it all the more rewarding," says Jules Kaufman, EVP General Counsel Corporate Secretary. 
For the second year, Gartner associates participated in the MarcUS for Change 5K Walk & Run. The event, which is hosted by SPEF and the McInerney family, celebrates the life and memory of Marcus Dixon McInerney, a Stamford High School graduate and aims to improve the academic, social, and mental well being of under-served youth. 
For the safety of all participants, the 5k was held virtually. Participants were able to complete a 5k walk or run on their own time during the week of September 20th-26th. Local Gartner associates met up in Stamford and Fairfield, CT for socially distanced group walks, while others opted for a solo session. 
"This marks the second year that our friends at Garner have assembled one of the largest teams for our annual MarcUS for Change 5K, which raises awareness and funds that support public education. Despite the challenges we have all faced over the past year and a half, SPEF continues to find innovative ways to serve the Stamford Public Schools community, and Gartner's associates have stood beside us, lending a hand to serve meals, distribute books, help with homework, and more. In March, we were honored to present Gartner with the SPEF Community Giving Award, in recognition of your dedication to volunteerism and philanthropy. We are grateful for this partnership and look forward to working together as the school year progresses" - Lynn Tusa, Development and Communications Director at Stamford Public Education Foundation
No matter the location, members of the team were able to get out and support the local public education system and champion SPEF's impactful programs. Thank you to all who participated and to SPEF for hosting the 5K event. 
Learn more about our partnership with SPEF here.