Meet Rohit Manchanda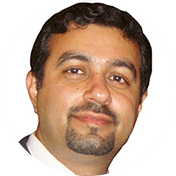 Name: Rohit Manchanda
Job Title: Senior Account Executive, Sales
University:
Office Location:
Why did you choose Gartner over other offers? When I was seeking career progression, I wanted to work for a world-class leader in my chosen field (Research and Advisory). I also wanted to expand my knowledge of the industry, as well as have the ability to call senior (C Level) executives, with uncapped earning potential and personal/professional development opportunities. Gartner seemed to carry this promise. This has been the best career decision I have made.
What do you enjoy most about working for Gartner? I work with a team of truly world-class professionals. This includes my Sales colleagues, Executive Programs partner and Gartner analysts. This is the only place where you get closest to the C-level executives in client organizations and they confide in you their plans, aspirations and visions for the future of their organization, as well as themselves. Once you have developed a trust-based, value-added (TBVA) relationship with your clients, you are a true partner in their success.
In what ways have you grown at Gartner? Prior to Gartner I worked with other large global ICT vendors. I knew about parts of IT and not about how it all comes together. Today I have a greater appreciation of the critical role IT plays in an enterprise and how the various domains (i.e., EA, BI, infrastructure) actually contribute. I can have a good engaging business conversation with T1 CIOs as well as their direct reports.
What impresses you most about Gartner as a company? Frankly, this is one of the few organizations that truly recognizes achievement and provides its sales force the opportunity to be highly successful as well as have an uncapped earning potential. Along with this there is the opportunity to grow your career within the company and this is part of your Individual Development Plan (IDP). If you want to progress in people management or move up as an individual contributor, you always have the support.