Meet Olivia Vaughn-Flam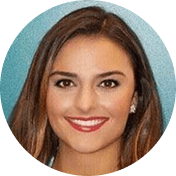 Name: Olivia Vaughn-Flam
Job Title: Sales, SMB
University: University of Central Florida
Office Location: Fort Myers, FL
Why do you like working at Gartner? Gartner provides limitless opportunities, and I can grow my skills here. Fort Myers also has so many beautiful beaches and the major attractions provide for endless entertainment.
What advice do you have for someone just starting out in your role? Be coach-able and curious, embrace advice, listen and grow, and have a goal for where you want to be and who you want to become.
What part of your job do you enjoy the most? I love how it's a collaborative environment and there are so many tools for success. The training is world-class and you're not going to find it anywhere else. The trainers are really helpful and everyone is willing to help you achieve your goals.
What is your favorite part of Academy? It is a very collaborative environment, as I mentioned before, and with all of the exercises that they have us do, we can network within the Academy and meet people providing a learning atmosphere.
Share a hobby you have or some fun fact about you: I love to dance and I have started to take dance classes in Fort Myers.
Favorite quote: "Work hard and be nice to people."