Meet Natasha Heaton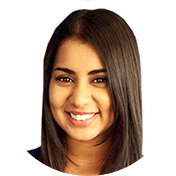 Name: Natasha Heaton
Job Title: Events
University:
Office Location:
Describe your job in 25 words or less: As an Events Attendance Specialist, I work closely with our account teams to align Gartner events to our clients' mission critical priorities.
What originally attracted you to Gartner? The location, the culture, the uncapped earning potential and the opportunity for career growth.
What is your favorite part about working for Gartner? The best part about working at Gartner is the type of people you get to meet, both externally and internally. Externally, you're learning from clients who are paving the digital future; it's incredible to see what they are doing and see that come to fruition outside of work (digital banking, for example). What I love most about internal relationships is that because Gartner hires people based on traits, we are all so different, but also so like-minded at the same time – which is something I hadn't really experienced before. It's almost as though we all want the same things ultimately, but we have our own way of getting there, so there is this very sincere sense of a support network around you. In the two years I have been here, I have made friendships that will last a lifetime.
How has Gartner helped you in your career development? Gartner has helped me understand myself and where I want to be in three, five, ten years from now. By understanding, and knowing what is possible, I've been able to put a roadmap together and figure out how to get there.
What are 3 words that best describe Gartner? Competitive, challenging, exciting
What has been your proudest moment at Gartner? My proudest moment at Gartner was achieving Winners Circle, Eagle and Global Top Achiever in my first full year. The hard work totally paid off and the rewards were more than I could ever have imagined. To share a trip to Hawaii with my husband and closest colleagues was a week I'll never forget.
If you could interview one person (dead or alive) who would it be and why? Einstein – because he's rational, and I love his frank perspective
What are 3 words that best describe you? Competitive, driven, curious
Favorite Quote: "So be gallant, be great, be gracious and be grateful for the opportunities that you have." – Jake Bailey