Meet Megan Marshall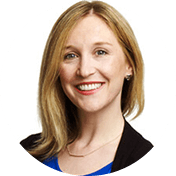 Name: Megan Marshall
Job Title: Consultant
University: George Washington University (BA), University of San Francisco (MBA)
Office Location:
Why do you like working at Gartner? First, as a Gartner consultant you're always learning something new, whether that means working in a different aspect of technology or working with a client in a different industry and learning about their business. Technology is always changing, so there's always something to learn about.
Second, every day is different. You're working with different people, on a different set of issues and even at a different location. It certainly keeps things interesting.
What advice do you have for someone just starting out in your role? Be curious, be proactive and always think about what you can do to make the work better. Regardless of your job level in the organization, your contributions matter. You can improve a deliverable by thinking about the problem in a new light, adding a different perspective or fresh insight, or presenting the information in an interesting way.
What part of your job do you enjoy most? Technology powers the world today, and IT underpins everything we do as people and also enables every part of an organization. In my role, there is incredible potential to have an impact because technology touches everyone, in every industry, in every part of an organization.
Share a hobby you have or some fun fact about you. I'm an avid runner and a new mom. When I'm not working with clients, you can find me running in the trails around my home or playing with my daughter, Michaela.