We always encourage our associates to grow within the organization and offer exciting opportunities for internal mobility, and Praveen Naik has taken full advantage of this. Read on to hear his story and more about his Gartner journey.
Written by Praveen Naik, Sales Manager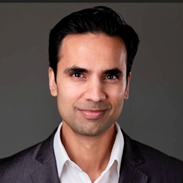 With my background in management consulting, I started in client development and account management, where I built strong customer relationships and learned multifaceted business areas. I then progressed into roles where I refined my negotiation and strategic planning skills.
I then moved into a management role as a Team Lead and, finally, to Team Manager for our Global Enterprise Oil and Gas Clients. In these roles, I focused on building and leading high-performing teams while continuing to drive significant revenue growth for the company.
Success on my team is about more than just hitting the sales targets. It involves cultivating strong relationships with our clients, understanding their needs and goals, and providing tailored insights that add true value to their businesses. It's also about how we work together as a team — communicating effectively, supporting each other, while continually learning and growing together.
During my 10-year journey at Gartner, I've had the incredible opportunity to work across various global regions and teams, which has been an enriching experience personally and professionally. Embracing diverse perspectives and collaborating with colleagues from different backgrounds has been at the heart of fostering a culture of inclusion and success. I have witnessed a culture that genuinely supports my career aspirations, extending well beyond sales roles. 
As an individual, I am incredibly confident in my ability to thrive and progress within Gartner. The formal training programs have empowered me to enhance my skills and prepare for future challenges. At the same time, cross-functional collaboration has given me invaluable exposure to various facets of the business, from Research, Sales, Operations and Service delivery. The openness to lateral moves has enabled me to leverage my expertise in new and exciting roles.
The opportunities here are endless, and I look forward to continuing my rewarding career at Gartner.
Thank you Praveen, we hope your story inspires others to reach for those opportunities and grow with Gartner too. To find out more, click here.