In honor of Women's History Month, we celebrated professional and personal achievements of women through our organization. Below, Digital Markets Content Manager Anubha Garg explains the significance of being thanked, what the pandemic taught her about balance, and why quiet mornings aid in her success.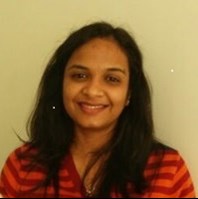 What is your role and what do you enjoy most about your work?
I'm a Content Manager on our Digital Markets team. Our team helps to create branded research and other content types for Capterra, GetApp, and Software Advice. The most enjoyable part of my work is getting to interact with people around the world. I love the collaborative environment provided by Gartner, it creates a more family-like environment where people are there for each other.
How do you balance career, personal life and passions?
I try not to build walls between my career, personal life, and passions. All three of these things define me. The pandemic has made me realize that career and personal life work in parallel, it's not possible to focus on one thing at a time. A playing or disturbing kid in the background is a part of my everyday work calls.
What does success mean to you?
Success to me is learning new things every day and feeling a sense of accomplishment. Having a culture where my work is appreciated, and I'm thanked for my efforts means a lot to me.
What's a daily or weekly ritual you have that contributes to your ongoing success?
Getting up early in the morning and dedicating some time for myself keeps me going. During this time, I like to go on walks, do some exercise or yoga or simply appreciate nature with a cup of tea or coffee in my hand.
The 2022 campaign theme of International Women's Day is #BreakTheBias.  How do you #BreakTheBias?
I believe in giving equal opportunity to everyone. I also think it is important to let women speak for themselves about the obstacles they face and their experience at work. 
Discover opportunities to join our growing team here.