Madeline Enos, Marketing Manager, started her career at Gartner 7 years ago in a media relations role. Since then, she decided to move into a new role on our SEO team and eventually launch a new team. Read on to discover how she leverages Gartner research about Connector Managers to empower her team.
By: Madeline Enos, Marketing Manager 
Starting My Tech Career at Gartner
The year was 2015, and Austin, TX was starting to boom. SXSW Interactive was a thing, but it was well before Elon Musk came to town. Software companies were beginning to move to Austin to get a taste of the fabulous live music and bbq. I was working in the nonprofit & education sector at the time but was hungry to explore new opportunities. A friend referred me for a Media Relations role at Software Advice, a Gartner acquisition focused on research and software reviews for small businesses. I was thrilled to get the job and start my career in the tech space.
Gartner went on to acquire GetApp and Capterra to form what is now known as Gartner Digital Markets. It was a high growth time for the business, and after a few years, I made a career pivot to join a newly formed SEO Center of Excellence. As I grew my subject matter expertise in SEO, I took on a more senior role, and I found that I enjoyed training and onboarding new team members. I knew that I wanted to become a people manager, and started consuming all kinds of management books and Gartner thought leadership on the topic. In 2018, I identified an area of growth for the business and pitched the idea for an SEO Central Services org that would create efficiencies and do SEO-driven content marketing for our portfolio of brands. Leadership was supportive of the idea, and I had the chance to launch a new team the following year-- the opportunity of a lifetime! 
Building a Global Team
At Gartner, "our people are key to our success." As the founder of a new team, hiring the right people was a top priority. I leveraged Gartner's 10 cultural elements and looked for candidates who had a proven track record of using the champion mindset, loved feedback and coaching, and demonstrated high integrity. I tapped into a global talent pool to find outstanding candidates in the U.S. and India. 
Building a team from the ground up has been a highlight of my career, and supporting a positive culture is an ongoing passion of mine. Kindness is a shared value on our team, and we have a strong sense of appreciation for each other's work. I genuinely respect all my team members and get inspired by them every day. From a business impact standpoint, a big driver for our team's success has come from embracing a test and learn mentality. We are constantly thinking of new approaches to help us reach ambitious goals. We've worked hard to build a sense of psychological safety which allows for calculated risks and possible failures. If a test misses the mark, we're able to focus on the key learnings and optimize for the next iteration.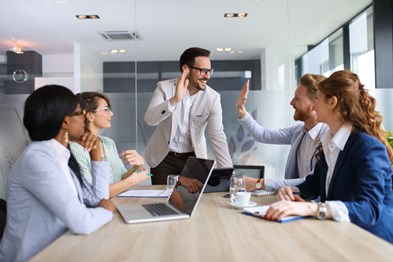 Becoming a Connector Manager
My road to becoming a "Connector Manager" took a few years. At first, I dove headfirst into the many excellent resources that Gartner offers to support emerging leaders. The Gartner Manager Program training and GartnerYou (our internal learning management system) helped lay a solid foundation of best practices. Participating in Employee Resource Groups like Women at Gartner also broadened my perspective and aided me in finding mentors across the organization. 
As the scope of my role increased, I felt stretched in certain areas where I didn't have the deepest knowledge base. I wanted to empower my team to develop their areas of expertise and specialization to support the evolving needs of the businesses, even if I couldn't directly mentor them. I came across Gartner's research on the "Connector Manager" and the concept resonated with me. These managers personalize employee development, power the team for peer-to-peer learning, and encourage high-quality development connections for employees. This management style triples the likelihood that direct reports are high performers and also drives employee engagement. As I embraced this approach, I cultivated more self-awareness and the ability to be vulnerable (à la Brené Brown), and recognize areas where I might have gaps in my expertise. I am very proactive in connecting team members with other associates at Gartner (and beyond) to accelerate their growth, and it's been amazing to see them thrive and form new relationships across the business. If you're intrigued with this management approach, here are a few tips:
Diagnose individual coaching needs for team members
Listen and take the time to understand learning preferences and needs, and help direct reports figure out what training solution would best address gaps and grow their skill sets.
Empower peer-to-peer development on the team
The best coach for an employee in a certain area may be their own team member. Understand this and work to create transparency on teams to foster more peer-to-peer development. Having a sense of everyone's strengths and areas of improvement, as well as how the team interacts with one another, can help pinpoint areas to push for more proactive collaboration and learning. It's a win-win!
Build high-quality development connections
Connector Managers use high-quality connections with other team leaders in the organization—or even experts outside of the organization—to fulfill coaching needs. Create and maintain a large but diverse network of skills and knowledge that you can draw from when needed. Some practical ways to do that include: joining Gartner's Employee Resource Groups, participating in a company book club, connecting with attendees and speakers at industry conferences, or joining professional associations and LinkedIn groups.
Looking to the future, I'm grateful that I can use Gartner's research and professional development resources to evolve my management style. And I look forward to the new challenges and opportunities that will come our way, I know the sky's the limit for my awesome team!
Interested in growing your career at Gartner? Search for an available opportunity here.