How Lucca Rossi found his perfect fit on Gartner's Digital Markets International Team
By: Lucca Rossi, Program Manager Gartner Digital Markets International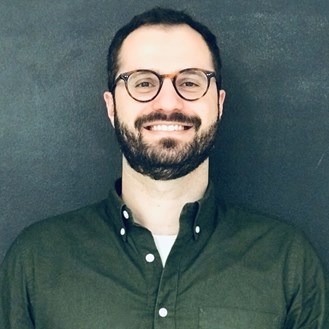 When I moved to Barcelona from São Paulo in August 2015, I already knew I wanted to change the course of my  career and start fresh. I had come to Spain to begin a master's in Literature and pursue my old dream of moving to an European city. Although I was still working as a journalist, I knew that I wanted to end my career as a news reporter as part of this fresh start. 
Attending classes in the afternoon while working on a night shift didn't give me too much time to think about what I wanted to do after finishing my studies. But when the first winter break came, I decided to start looking for a new job. And the question came: what did I want to do? I assumed that a career change wouldn't be easy, but I was facing it for the first time. 
I always had a passion for languages. Living in a bilingual environment (Catalonia has two official languages, Spanish and Catalan) made that even bigger, so why not invest in it then?   
In April 2016, I started working as an editorial analyst for Thomson Reuters, doing research and translating legal and technical documents into English to be used on reports produced by a team of pharmaceutical experts. I had officially changed my field of work - from news to science! Only those who have done it know how hard this first step is!    
But the journalist inside you never dies, they said. That was what happened to me. After three years of digging into technical translation and editing, I felt I needed to go back to writing. I didn't want to return to journalism but instead wanted to use my skills to produce content. That's when I came across Gartner and, more specifically, Gartner Digital Markets.      
In my new role, with the great support of a team of marketers, designers, SEO experts, and engineers, we produce blog posts and reports for three brands and nine markets. Our analysts develop a full content strategy that includes, among others, SEO-focused pieces to help users quickly find our pages on search engines and survey-based articles devoted to media outreach to help our brands to gain recognition in each of the markets we are in.
I won't bother you with the details of our content-marketing strategy, but I would rather spend some time focusing on one of the words that describe our team: international. If someone asks me what's so special about our team, I will undoubtedly answer with that word. We are a truly global team, with analysts and editors based in Barcelona and Gurgaon writing content in Brazilian Portuguese, Dutch, English, French, German, Italian and Spanish. And that list will continue to grow in 2022!
But, we're more than native speakers, we have a group of people who understand their cultures and communicate with them. Internally, we learn from each other's different points of view and backgrounds. Because we deal with words, we know how difficult yet rewarding it is to work on an international team.   
I left a formal presentation of what I do at Gartner to the end since it represents the closing of the cycle started with my arrival in Barcelona, which I explained at the beginning of this article. 
Gartner Digital Markets is growing at a rapid pace. As we add more markets and start new initiatives, new opportunities arise. That's what happened to me. After joining the company in April 2019 as a content analyst for the Brazilian market, I moved to a program manager position at the beginning of this year. I am now responsible for a team of 8 analysts covering our non-English speaking markets. 
It's been nine months of intense learning both from my team and my managers. One of our directors asked me during the interview process for this position if I would miss writing if I were finally chosen for the job I am at now. I was honest to say that yes to some extent. As I said, the journalist inside you remains there. 
I love writing, it's true. But I also love the challenges and possibilities Gartner has given me so far. And I am looking forward to continuing to grow with our business! 
Learn more about opportunities on our growing Digital Markets team here.