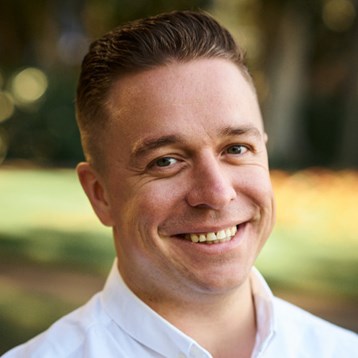 It's a cold, wet, Northern English November in 2012. My indie-rock band had just given up the ghost (we realized we might not be the next Arctic Monkeys), I had accepted a redundancy package from the gig I held at a national newspaper during the beginning of the end in print journalism and was simultaneously packing my suitcase for a brand-new start on the other side of the world in Sydney, Australia.
As I write this looking out of the Gartner office window 7 years on in Sydney's CBD, I am grateful and privileged to hold the position of Regional Vice President, Sales for ANZ. My name is Jason Marsh.
I graduated from the University of Liverpool in 2008 with a B.A. (Hons) in journalism and spent the initial phase of my corporate career at Trinity Mirror Newspapers. I held a number of editorial and commercial roles, from feature writing to business development. However, as I landed in Sydney Feb 2, 2013, I felt the winds of change blowing. It was in that state that I encountered Gartner, a moment that was about to change the trajectory of my life in a significant, exciting and yet also very permanent, way.
The first thing that struck me about Gartner was the quality of the people I met through the recruitment process. Each step of the way, the talent acquisition lead owning the role was smart, available and well-informed on the business and coached me through the experience. When I met the key sales leaders involved in the hiring decision, I found them engaging, passionate and driven. They were the type of leaders that were unapologetically there to help you grow, to get the best out of you and to value the journey ahead. Safe to say I was IN.
I accepted the position of Business Development Manager, HR in our MSE team. The first piece of advice I could give any would-be sales professional walking through the door at Gartner would be "Leave the ego at the door." You have been hired because of your skills, your ambition, your drive, your values and your experience. But now that you are here, you are going receive a real education in sales.
We sell intangible ideas, through meticulous rigor, to senior executives, solving multimillion-dollar problems in the world's major economies. The CxOs we work with are some of the brightest in their industry and have a wealth of experience, so to meet those executives where they are, you will need to grow. The first three years of my career, I adopted the philosophy of having a "learning mindset." This is the belief that the art of learning is a story that never ends. To be truly successful over time you must continue to leave one day behind you knowing you have mastered, experienced or failed at something that will make you a better professional for the following day. Those initial years I went from Business Development Manager to Senior BD to Sales Team Lead and I know wholeheartedly the skills I learned through that process set me up for the role I do today.
It was always my ambition to lead through amazing support of other wonderful leaders across the Gartner organization and because of the faith shown in me by Jen Ham, Managing Vice President, APAC, in 2016 I was promoted to Sales Manager, MSE. Sales leadership is an amazing role because you are now in a position of responsibility; that responsibility is to impact other people for the better. You need to coach, to inspire, to manage, to motivate, to teach, to empathize, to hold integrity and most importantly, grow your business so that one day you can promote and further the careers of others. Gartner is an amazing place to do that.
Across my Sales Manager tenure, I managed our core research and advisory sales business team of 8 and at one point 14. During that period the HR MSE research and advisory business for ANZ grew tremendously, and I was promoted to Area Vice President. I took this role during a period where our business was going through immense change.
Through the next 18 months once again the skills and the experiences I picked up along the way were invaluable. From change management, project management, the hiring and at times the letting go of talent, leading other leaders, driving culture initiatives, building new sales capabilities and as Gartner does so well, managing my business "programmatically," Time and again, I found myself applying that learning mindset and following the belief that the experiences of today are setting us up for tomorrow.
That tomorrow arrived in January 2019, where I was promoted to Regional Vice President, HR ANZ, and was asked to lead the HR business for the region. This is the role I currently hold. I have the privilege of leading a team of 30 sales professionals: 24 individual contributors, 4 sales leaders and some wonderful support staff. We operate across all industries in both private/public sectors and in midsize companies through to the largest organizations in the region. Our prior year result was that we shrank by 1%, and in 2019 we grew by 8% — not quite double digits but going the right direction. What I am most proud of, though; is the culture, values and sales education we live, the same stuff I remember learning 7 years before.
So, what could I share? What makes someone successful in Gartner? Well it is littered through this blog but:
Leave the ego at the door and approach everything with a learning mindset. Pride is the burden of a fool. You are here to grow and get better always.
Relish a challenge. Working here will be a test, but remember, there is value in that test.
Build meaningful relationships with your colleagues. We spend more time with our work colleagues than sometimes our own family and friends. Connect, collaborate and grow together.
Are there any other variables to success? Yes, a bit of luck perhaps, a dash of timing, and "competence over time."
Interested in joining the Gartner team? Search for an available role on our growing sales team here.
---
Are you looking for a job where you'll do challenging, groundbreaking work? At Gartner, each and every associate has a hand in our success. Learn more about how you can make an impact with your work here.