Meet Jadah Quinn, Sales Manager of Gartner's Australian-New Zealand Large Enterprise High Technology Division. Jadah leads a team that advises organizations on best practices to increase market share, accelerate growth, identify new market opportunities and differentiate from the competition. Outside of work, she is passionate about taking on creative projects. Learn more about her and the impact her team has created at Gartner.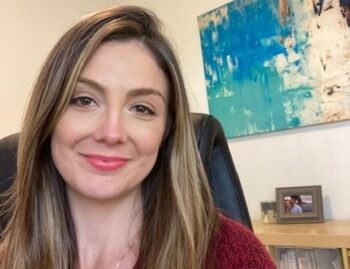 Who are you when you're not at work?
With a background in Creative Arts, I was a paid actor in my 20's, I still like to drive meaningful creative projects in my spare time. I am currently producing a documentary titled the Heroine's Journey and we are in post-production. It's been an incredible journey that led me to the US to interview a well-known author and psychoanalyst Maureen Murdock. I've also been lucky enough to interview women of all ages and backgrounds and have been so moved and inspired by their vulnerability and stories. It has truly been a life-changing experience and one that I will hold very close to my heart.
Describe your career trajectory so far. How has that been?
I began my journey at Gartner in 2016 as a mid-size enterprise (MSE) Senior Account Executive, where I was lucky enough to achieve Winner's circle in my first 6 months. A year and a half later, I moved into a Manager role where I was responsible for leading a team of new hires. This was quite the task, but also one of the most rewarding experiences of my life as my team made a significant impact on our clients and their businesses that year.  In 2019, I had my first child and within 6 months of returning to Gartner, I was tasked with leading the Emerging Tech team and helping clients pave a path forward during a global pandemic. Despite the unprecedented challenges, we persevered and as we empowered our clients to successfully execute their priorities, we achieved our goals as well.  Not long after, I was promoted to a Large enterprise Sales Manager in 2021. 
How would you describe your current role?
In my current role as a Sales Manager, I lead the High Technology sector within the Australia-New Zealand region (ANZ), covering Large Enterprise and Global Technology Providers. My main responsibility is developing the go-to-market and growth strategy for the region as well as coaching and developing other Account Executives. I'm lucky enough to be part of a dynamic team that advises Technology Providers on best practices to increase market share, accelerate growth, identify new market opportunities and differentiate from the competition in an ever-evolving social, political and technological landscape.
What do you enjoy the most about your role?
As a sales manager, one of the things I enjoy most about my role is the opportunity to create positive change in the lives of our clients and my team, whether this is through leading Diversity, Equity and Inclusion (DEI) initiatives within Gartner or helping organizations mitigate risk and enable them to hit their business goals sooner. The leadership principles I've learned and continue to learn at Gartner are also very valuable in my personal life- from relationships with loved ones to leading teams in my creative endeavors.
Gartner has a real sense of collaboration and "win as a team" spirit and that has always meant a lot to me. By sharing best practices, sharing feedback and focusing on continuous improvement, it helps ensure that no one gets left behind. I chose to work for the High-tech side of the business because I am passionate about business in all its forms. I enjoy working with companies to help them achieve their strategic growth initiatives and this role allows me that opportunity.
What leaves you feeling most fulfilled?
My role matters because I have been able to lead my team and clients through an unknown, evolving market.  When COVID-19 reared its ugly head in 2020, it had a big impact on our people and clients big and small. Throughout this time, I have been in a position to help organizations redirect their efforts when required and help clients hit their goals when there was no line of sight. I've also been able to support my direct team through some very tough personal and professional moments. And this is what ultimately drives me on a deeply personal level every day.
---
Want to work with people like Jadah? Search for an open position here.