At Gartner, we understand the importance of achieving a work life balance which is why we strive to provide all associates the support they need to be successful in both their professional and personal lives.
Caitlin Godwin, Account Executive, joined Gartner 3.5 years ago. Since joining Gartner, she has proved to be a valuable asset to her team throughout her tenure. When she found out she was pregnant in 2019, she was in the midst of her best professional year in 11 years. At first, she was nervous about how taking maternity leave and having children would impact her performance, however, she was quickly reassured by her supportive team and managers that she could find the balance she needed to be successful. Read on to discover how Cait's team provided her the support she needed to grow in her personal and professional life. 
By: Caitlin Godwin
When I decided to tell my manager that I was pregnant, I was nervous. I was nervous that I would let the ball drop at work or that my bosses and executives would be concerned with my ability to get the job done. I had worries as a newly pregnant woman that I'd have to take a step back from everything I had worked for over the last 10 years and that I would be left behind if I took too much time off to spend with my baby. My confidence was shaken as I prepared for my new but important role as a mother. When I told my boss that I was pregnant, however, he was incredibly supportive. He was very happy for me and reassured me that this was an exciting step and this experience would help me become an even better version of myself! Further, he explained that while there may be a learning curve, I was going to be able to nail motherhood just like I had succeeded in all of my other professional pursuits.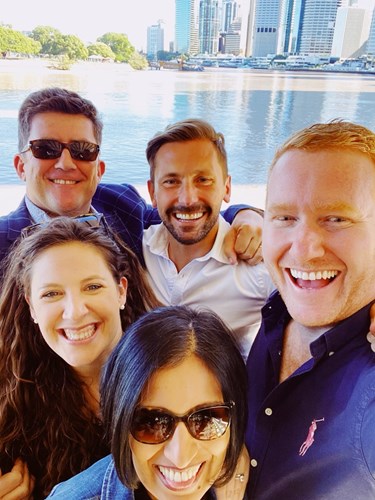 Early on into my pregnancy, I was offered a promotion by my executive who did not know that I was pregnant. The new position would start at the end of the year which coincided with when I would start my maternity leave. I told him that I was pregnant and planning to take at least 6 months off for maternity leave. He still encouraged me to take the promotion, however, I ended up turning down that opportunity as I was really focused on finishing the year out strong in my current role and starting my new role as a mother. 
During my maternity leave, my manager, leadership team, and peers stayed in close contact. Due to COVID concerns, I decided to take a full 12 months instead of the originally planned 6 months of leave and my team was extremely supportive of this decision. Even while on maternity leave, I got a call from HR to give me the heads up that there were a few leadership roles opening up and that the executives and VP's wanted to make sure I was aware of them. Once again, I turned these roles down due to the location, however, it was reassuring to know that even while taking time off to support my family, I was still being considered for leadership roles that I had previously expressed interest in. 
When I returned to work from maternity leave, I realized I was in a position to take on more responsibility than I had before I had left for maternity leave. As I began to take on more, I decided that I was ready for a leadership role. With my manager's blessing and coaching, I interviewed for a leadership position in the US and was offered that position.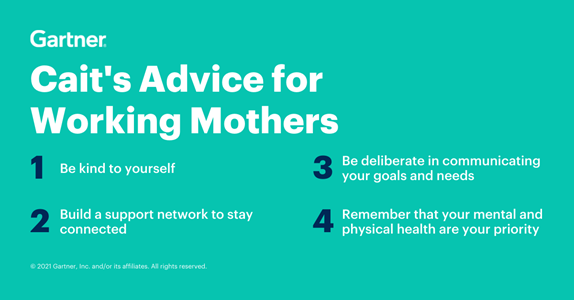 As I reflect on how my team supported me, I also have to acknowledge the steps that I took before and during my maternity leave which helped set me up for success. Before maternity leave, I made sure to be clear and deliberate about my needs, wants, and ambitions. This allowed my manager to feel comfortable reaching out to me with new opportunities since I had already made it clear that I wanted to take on more responsibilities. While on my maternity leave, I started to set up a support network to help me dive back into work once I was ready to return. I constantly tried to be kind to myself and remember that as a mother I now had even more responsibilities than before. Ensuring my physical and mental health was always my first priority so I could truly take care of my family and kill it at work. Overall, this experience has made me realize how supported I am at Gartner and how much I can achieve with a strong support system in place. 
After living in Australia for 8 years, it's great to be able to get back to the United States to be closer to my family. I will be moving back to the United States in a leadership capacity in July of 2021, and couldn't be more excited.
---
Interested in learning more about how Gartner supports its associates? Learn about our comprehensive benefits program here.