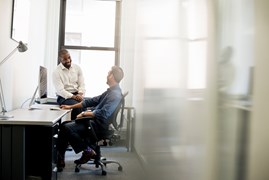 Let's face it, there are benefits to working in the office and there are benefits to working from home. In the office, we have the opportunity to collaborate with coworkers and have in person meetings. Working from home, on the other hand, means there's no commute, which can help lead to more productive days. There isn't a one size fits all solution for everyone; working from home may be more beneficial for some associates and teams, while working in the office may be more beneficial for others. In fact, only 4% of respondents in a recent Gartner survey said they would want to go back to the office full-time. 
This is why Gartner is now a virtual first company. This means our associates have the flexibility to work from home most of the time and spend time with colleagues in the office for in-person connections like recognition events, team meetings and training. 
This new flexible work model allows teams to find the right balance of working from home and spending time together in the office. For some teams, this may mean that all associates will be in the office once a quarter for a specific meeting, while other teams may decide to work from the office more frequently. The office is open to any associate who wants to work from their office more frequently. It's the best of both worlds.
Learn what our associates have to say about what it's like to work in a virtual first company: 
"Being on a global team primarily based in the United States, the added flexibility to work from home has made me feel even more connected than ever before. With the majority of my team working remotely, there is a heightened feeling of inclusion and togetherness." - Mayuri C, Employer Brand Specialist
"Working remotely has provided me the opportunity to cut out my lengthy morning and evening commute which has in turn allowed me to be more productive at my job while also devoting more time to the things that are important to me." - Stacey D, Operations Director 
"My wife and I both work at Gartner and working from home has given us the flexibility we need to care for our first child while also continuing to grow our careers. It made us more confident as we transitioned back into our jobs after our paternity and maternity leave since we knew we could be incredibly close to our daughter's daycare." - Andy R, Recruiting Manager
As a virtual first company, we're committed to creating an environment where all our associates can reach their full potential while also being able to balance their personal life and responsibilities. 
Learn more about the benefits that Gartner offers here.