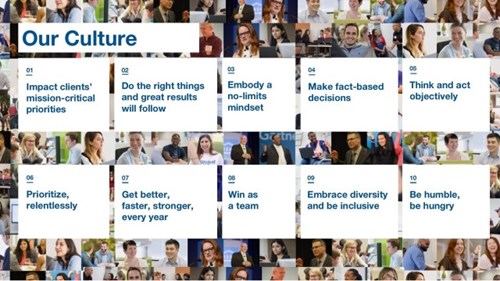 Recently, Robin Kranich, Executive Vice President & Chief Human Resources Officer, shared an article on LinkedIn about the culture at Gartner and how you can fit in. She begins by saying, "Our people are the reason for our sustained success. We are a team of thinkers, doers, and lifelong learners. We are innately curious, driven, disciplined and humble." If this sparks your interest, read the rest of the article below.
We foster an environment where individuality bolsters teamwork and diversity leads to a like-mindedness of ideas.
And we're looking for people who can thrive in our distinctive, growth environment.
These 10 cultural elements describe the very essence of what makes us special as an organization.
Impact clients' mission-critical priorities
Do the right things and great results will follow
Embody a no-limits mindset
Make fact-based decisions
Think and act objectively
Prioritize, relentlessly
Get better, faster, stronger every year
We win as a team
Embrace diversity and be inclusive
Be humble, be hungry
These aspects of our culture are authentically Gartner. If they're authentically you, please apply now.