We are excited to share that Gartner has released its third annual Corporate Responsibility Report. Below, Elena Angell, Director, Corporate Social Responsibility at Gartner highlights some of the key takeaways from this year's report.
Written by: Elena Angell, Director, Corporate Social Responsibility 
Today, we're proud to publish The Gartner 2021 Corporate Responsibility Report. Our corporate responsibility goal is to accelerate positive social change and contribute to a more sustainable world so that our associates, communities and clients thrive today and in the future. We leverage our unique expertise and resources to achieve impactful results. This year's report highlights the impact we have created across five focus areas:
Our Associates
Our Clients
Our Company
Our Communities 
Our World
This report reflects our progress in serving all our stakeholders – both internal and external. It's an assessment of our advancement on the broad CSR approach that includes, among other things, Diversity, Equity and Inclusion (DEI), and environmental sustainability. These topics are so important and we will continue to evolve as a company and increase the transparency of our journey.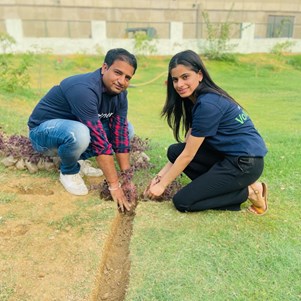 We pride ourselves on supporting our clients with our objective insights, products and services – and our people take that same service approach to helping the communities where we live and work through volunteering and philanthropy. In 2021, Gartner and its associates donated $7.2 million dollars to support more than 4,100 around the world and our teams volunteered more than 18,800 hours. Through their individual and team efforts as well as  our six Employee Resource Groups, our associates followed their passions and supported causes that mattered the most to them. 
We continuously strive to minimize our environmental impact and embed sustainable best practices into our operations. Our greatest impact comes from our work with clients but we also have been taking meaningful steps to manage our own environmental footprint. It is a foundation of our culture to do the right thing and to make fact-based decisions and we have been measuring our carbon footprint and incorporating sustainability in our operations.
Our commitment is to achieve net-zero greenhouse gas emissions by 2035 in accordance with the Science Based Target initiative's (SBTi) Net-Zero Standard.
"The world will continue to change rapidly. And I'm confident the progress we've made in each of our corporate responsibility pillars will help us respond quickly as new challenges arise and new opportunities present themselves. I'm humbled by the passion and dedication of my colleagues as we continue our journey toward building a more sustainable, equitable and successful world. Together we are making a positive impact." said Jules Kaufman, EVP, General Counsel and Chair of Gartner Corporate Responsibility Executive Council
From offering free guidance to the business community through the Future of Work Resource Center and DEI Resource Center to adapting a virtual-first approach work as an organization to continuing to accelerate company-wide CSR and DEI strategies and joining colleagues around the globe in volunteerism, giving, and outreach, 2021 became the year of change, flexibility and interconnection.