Gartner celebrates and supports our associates all year round with a comprehensive range of benefits. But as we recognize Pride Month this June, we wanted to shine a spotlight on how some of these benefits and our inclusive culture have supported LGBTQ+ colleagues in living their most authentic lives. Below, Ashlee Arroyo, Recruiting Team Lead discusses how she is building her family with the support of Gartner's fertility benefits.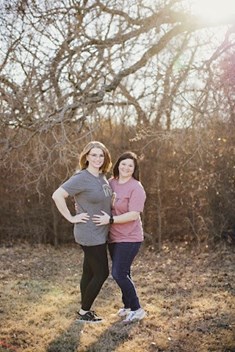 By, Ashlee Arroyo
My wife and I have been together for 11 years (married for six), and we couldn't be more excited to welcome our son in July! I'm originally from a small town in Texas, where I grew up on a farm – we weren't really exposed to any LGBTQ+ community, so coming out as bisexual as an adult was a new experience. I've been working in recruiting for over 10 years, and joined Gartner's Talent Acquisition team for Conferences in late 2018. Since joining, I've been promoted twice and now lead a team of global recruiters.
How have you used Gartner benefits to help build your family?
Fertility costs can be prohibitively expensive, so when we found out about Gartner's Adoption and Surrogacy Assistance Program, my wife and I started talking about having a child – and when the lifetime benefit doubled, we decided to go for it. We were quickly approved to begin IVF treatments in summer 2021. We're beyond excited to bring a little life into the world, and this soon-to-be "Mama" is looking forward to dressing him in a Gartner onesie during my 16 weeks of paid parental leave!
How have you felt supported by Gartner during this process? 
Aside from the benefits, Gartner's inclusive environment and supportive management have been the best part of the experience. One example was being encouraged to apply for my most recent promotion despite knowing that I was going to be taking leave soon. I have never felt "other" at Gartner and actively feel the support of the Pride at Gartner employee resource group. Knowing there's a vested interest in our community at the OC level, with the support of Ken Allard, EVP, Chief Marketing Officer, also makes me feel like I can bring my full self to work.
Have you leveraged other benefits?
I've been using a range of Gartner benefits to support our family planning, including pregnancy apps and monthly calls with a nurse. I'll definitely be using more after our son is born, including Gartner's legal benefits to protect my wife's rights as a parent. These benefits cover a range of fertility, adoption and surrogacy assistance programs. Gartner's inclusive benefits put our family goals within reach, which we didn't think was possible in the past. 
Throughout the process I've never felt a moment of desperation or exclusion wondering how we were going to make something happen because we didn't fit into a specific category. As a Recruiter, I have never been shy to discuss how great our culture is, but this experience has given me more confidence to speak toward our total compensation inclusive of our benefits in a more comprehensive way with my candidates because I know now how to really optimize them and how they truly can help. 
Learn more about Gartner's comprehensive approach to benefits and what else makes Gartner a great place to work here.