Gartner, the world's leading research and advisory company, is proud to announce that it has been recognized on the 2021 Top Employers List by Careers & the disABLED Magazine.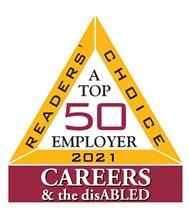 Established in 1968, Careers & the disABLED is a recruitment focused magazine in the United States for people with disabilities (PwD). To curate the thirtieth edition of the list, readers from across the country selected the top companies for which they would most prefer to work or believe provide a positive working environment for people with disabilities. 
We support associates of all abilities and are committed to creating a place where individuals impacted by a disability, neurodiversity, and chronic or mental illness can thrive.
By continuing to innovate and foster a culture rooted in mutual respect and accountability, our executive leadership team, Diversity, Equity & Inclusion Center of Excellence, Diversity Equity & Inclusion Council, Business Unit Advisory Boards and employee resource groups are committed to creating positive change throughout our organization. We'll continue to support leadership development, host events, influence benefits, raise awareness and develop workplace resources that reflect the needs of our global associate population. 
While we've made real progress, we know that there is still more to be done. We're dedicated to continuously improving and making Gartner a great place to work for all associates. 
Learn more about our commitment to diversity, equity and inclusion
 

here.