A safe, inclusive, and equitable environment for all associates is the key to ensuring our associates can reach their full potential. We strive to provide the resources that support each associate's personal and professional growth – from day 1.
Recently our associates facilitated a Real Talk - an open and honest conversation about navigating visible and invisible physical disabilities, neurological diversity, mental health challenges, and the responsibilities that come with caring for a child or dependent. During this session, we discussed challenges associated with disabilities, mental health, neurodiversity, and being a caregiver, which has been heightened during the pandemic. Over 230 associates attended this Real Talk and many associates left feeling connected to and understood by their coworkers. Read below to discover what our associates had to say about the Real Talk.
 (Names have been redacted for the privacy of our associates)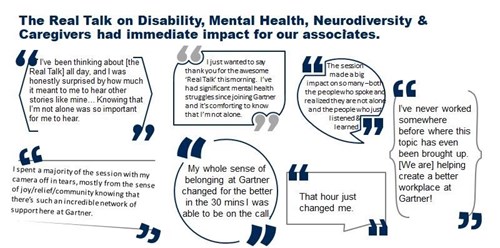 "I've been thinking about [the Real Talk] all day, and I was honestly surprised by how much it meant to me to hear other stories like mine… Knowing that I'm not alone was so important for me to hear."
"I spent a majority of the session with my camera off in tears, mostly from the sense of joy/relief/community knowing that there's such an incredible network of support here at Gartner."
"I just wanted to say thank you for the awesome 'Real Talk' this morning. I've had significant mental health struggles since joining Gartner and it's comforting to know that I'm not alone"
"My whole sense of belonging at Gartner changed for the better in the 30 mins I was able to be on the call."
"The session made a big impact on so many – both the people who spoke and realized they are not alone and the people who just listened and learned."
"That hour just changed me."
"I've never worked somewhere before where this topic has even been brought up. [We are] helping create a better workplace at Gartner!"
Overall, this Real Talk deepened the sense of community among associates at Gartner which helps give our associates the confidence to become even better and stronger.
---
Learn more about our DEI efforts and how we support people with disabilities at Gartner here.