Meet Gigi Zhang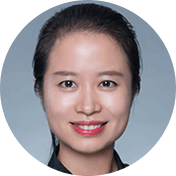 Name: Gigi Zhang
Job Title: Account Executive, Sales
University: Wuhan University
Office Location: Beijing, China
How has Gartner helped you in your career development? Gartner is a great place to develop professionalism as a sales account executive. I'm glad the Gartner has equipped me with the Gartner value selling methodology. I have put it into practice and now better understand my clients. I am also learning from great colleagues and the researchers really help me to understand industry and business.
What advice do you have for prospective Gartner candidates? Gartner is growing rapidly with lots of opportunities. Come and prove yourself!
What are 3 words that best describe you? Passionate, Thoughtful, Agile
What is your favorite quote? A pessimist is one who makes difficulties of his opportunities and an optimist is one who makes opportunities of his difficulties.