Meet Barbara Callahan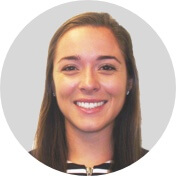 Name: Barbara Callahan
Job Title: People Analytics Projects Specialist
University: Georgetown University
Office Location: Stamford, CT
Describe your job in 25 words or less: I work closely with our recruiting teams to provide reporting and forecasting to assist them with resourcing, setting goals and tracking progress made toward them.
What originally attracted you to Gartner? I was originally attracted to Gartner two years ago when I was applying for summer internships and was referred by Julie Thomas. I interviewed with the People Analytics team and was really fascinated and impressed by the level of projects that I would be working on even though I was only an intern. I really enjoyed everyone that I met during the interview process and felt like Gartner had a great culture and environment. I came to realize how true that perception was and was lucky enough to be able to join the team full time after I graduated.
What is your favorite part about working for Gartner? My favorite part about working for Gartner is the amount of responsibility that I was able to take on after such a short time here. I've really enjoyed being able to own several projects and programs and continue to learn and evolve with them. Everyone here is incredibly collaborative and helpful, making for a very easy transition to get up to speed and creating an environment where I'm never reluctant to reach out to others with questions or ask for assistance.
What has been your proudest moment at Gartner? I think that my proudest moment at Gartner actually took place during my internship. I was not expecting to be working on any high-profile projects as an intern. I had been working for a while on a particular analysis and at the end found out that the results were being circulated with the recruiting leadership and were being used to direct future recruiting efforts. It was a great learning experience to see the project from start to finish and it made me proud to know that the results were actually going to be put into action. It showed me how much value we place on the work of each employee, even when you aren't necessarily expecting it.
What aspect of your role do you enjoy the most? The aspect of my role that I enjoy the most is the opportunity that I have to make a valuable impact on our recruiting organization. Through resource planning and forecasting efforts, I'm able to help the teams properly plan for the amount of recruiting support they will need in the future to ensure that they are able to tackle the hiring needs of their respective BUs. For our largest recruiting teams, we then meet weekly to review progress made against targets and ensure that leadership has full visibility into successes and any trouble areas that we can then proactively work to problem solve.
What advice would you give to recent new hires? First, make a reference sheet for all of the acronyms that you are about to see and hear over your first few weeks, because there will be many and it will help you feel a little less lost in those initial meetings. Secondly, my experience here has truly demonstrated the tremendous character and intelligence of my fellow colleagues — take advantage of everything that they're able to teach you and know that they are always happy to help.
If you could interview one person (dead or alive) who would it be and why? If I could interview anyone, I would want to interview Brandon Stanton. He's the creator of Humans of New York and I would love to learn more about the experiences he's had while traveling and sharing the stories of the people that he's met.
What is one thing unique about you that people would be surprised if they knew? In college I was a member of the Georgetown University Grilling Society (GUGS) and am an official Grillmaster. I would be more than happy to grill some of our specialty burgers for anyone who wants to try them!
If you could switch your job with anyone else within Gartner, whose job would you want and why? I would want to switch jobs for a day with someone in the Event Planning/Ops organization. I haven't had much exposure to the Events business so it would be really interesting to learn what it takes to organize them and have the chance to attend one.
Favorite Quote or Personal Mantra: Do small things with great love.